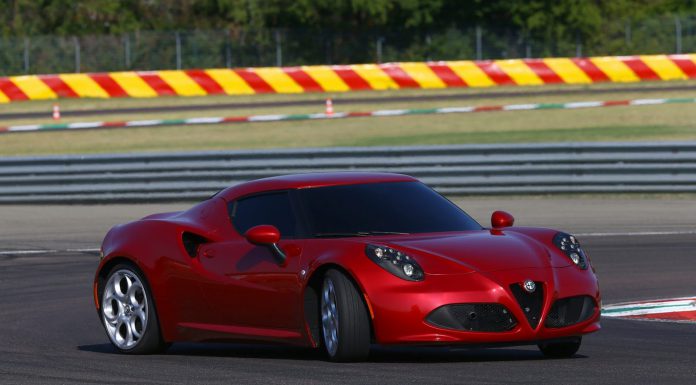 Alfa Romeo is continuing with its relentless marketing campaign for the brand new 2014 Alfa Romeo 4C and Giancarlo Fisichella was the latest man to take a promotional spin in the market redefining sports car!
As you may or may not know, Fisichella once raced for the Scuderia Ferrari Formula One team and is consequently quite versed in performance cars. Despite the Alfa Romeo 4C being significantly slower than the F1 cars he's used to, the smile on his face during the drive at Balocco Circuit tells us all we need to know: that the Alfa Romeo 4C is an excellent driving machine!
[youtube]http://www.youtube.com/watch?v=CpCaCcxLihE#t=138[/youtube]
While speaking with Automotive News Europe a week ago, Fiat's European product development head, Mauro Pierallini revealed that the Alfa Romeo 3C will weigh more in the U.S. "[Alfa Romeo] had to respect different regulations. The car is about 100kg heavier because we had to add some aluminium inserts in the carbon fiber chassis. The U.S. crash test requires a different structure to absorb different impact forces. We also had to comply with rules covering the gasoline tank, the fuel lines and emissions".
Consequently, the U.S. spec Alfa Romeo 4C will tip the scales at 995kg. With that being said, if Alfa Romeo had initially revealed the all Alfa Romeo 4Cs would weigh less than 1000kg, we would have been thoroughly impressed as it's still significantly less than the Porsche Boxster and Porsche Cayman weigh.
The Alfa Romeo 4C features a 1.75-liter four-cylinder turbocharged engine delivering 241hp at 6,000rpm and 350Nm of torque at 2,100rpm-3,750rpm. While such a powertrain doesn't sound all that impressive, the 895kg dry weight of the Alfa Romeo 4C will make it sprint to 62mph in just 4.5 seconds, which is four-tenths quicker than a Porsche Cayman S equipped with the expensive PDK transmission! Expect the U.S.-spec car to accelerate slightly slower.