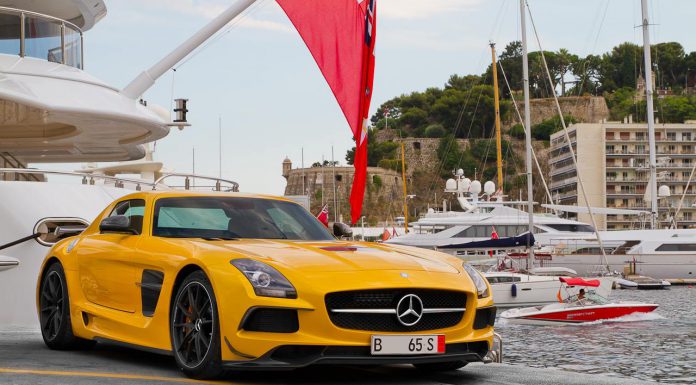 The Mercedes SLS AMG Black Series is the Hulk of the automotive world. It looks so purposeful, so aggressive, as if it is brimming with power that wants to tear itself out of the new, lighter, carbon fiber hood. It looks brutal. The stylists at AMG have not just focused on making the car look intimidating, the small aero tweaks, especially the lower front-bumper wiglets finished in a gloss carbon fiber add a touch of delicacy to the look of the 6.2-litre V8 animal. Staying with the engine, this car has the power to match the looks. 622bhp, 468lb ft, 0-62mph in 3.6 seconds, 196mph top speed. That's 59bhp more than the normal SLS, which helps make it 0.2 seconds quicker than the regular car to 62mph. This is a fast car by any standard!
This example of the Black Series was spotted in Monaco, a hotspot to see the latest and greatest cars. Raphaël Belly took this fantastic photo capturing the beauty of the car and its very well suited Solarbeam Yellow finish.
Want something a little more relaxed and suited for summer cruising? Here are a few shots of the SLS Roadster that we tested a while back.