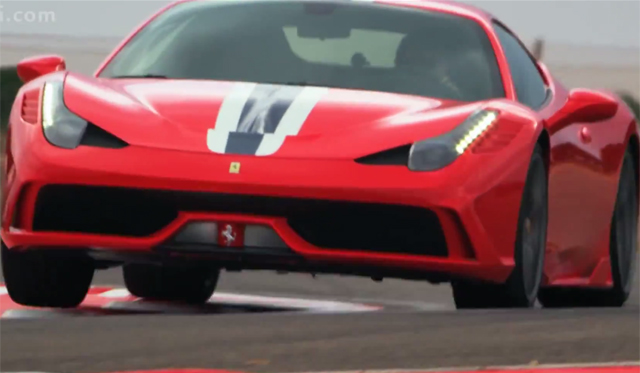 After the 2014 Ferrari 458 Speciale debuted last month, Ferrari has just released the official video for the car giving us our first look at the hardcore 458 on the move!
[youtube]http://www.youtube.com/watch?v=7sOCNQ_bb60[/youtube]
The video above features some high-paced action from the Ferrari 458 Speciale on the track and features some extremely unique camera angles helping to show all the advanced aerodynamic components of the Ferrari 458 Speciale. Some of the most unique features include the moveable rear diffuser and front air intakes which open and close.
[youtube]http://www.youtube.com/watch?v=wJ7eqV2WFlA[/youtube]
In the other two videos you see here, Ferrari explains the advanced technical features of the Ferrari 458 Speciale.
[youtube]http://www.youtube.com/watch?v=pdKp1Lb6cDA#t=61[/youtube]
As a refresher, the Ferrari 458 Speciale features a modified variant of the regular 458 Italia's 4.5-liter V8 engine. In Speciale guise, it delivers a total of 597hp and 398lb-ft of torque thus making it the most powerful naturally aspirated V8 engine ever produced by Ferrari. What's more, Ferrari claims that thanks to it delivering 133hp per liter, it has the highest ever per liter output of a road-going naturally aspirated engine. Maximum power is achieved at 9000rpm while max torque is reached at 6000rpm.
The Ferrari 458 Speciale tips the scales at just 1290kg and Ferrari consequently claims a sprint time to 100km/h in just 3 seconds and the car can then hit 200km/h in just 9.1 seconds. What's more, Ferrari claims that the Ferrari 458 Speciale can sprint around the Fiorano test track in just 1:23.5 seconds thus making it 1.5 seconds faster than the standard car and just .5 seconds slower than the Ferrari F12 Berlinetta.