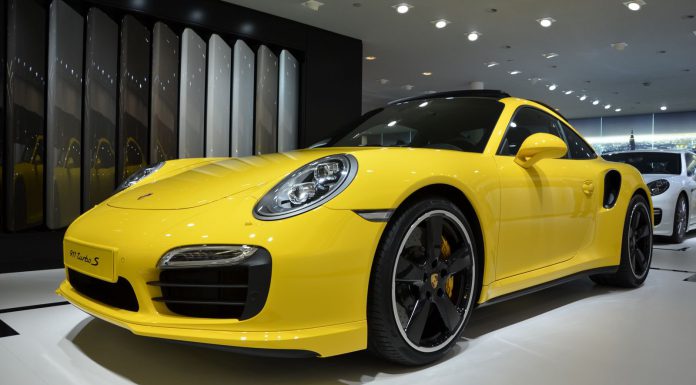 The all-new 2014 Porsche 911 Turbo S was shown at the IAA Frankfurt Motor Show 2013 in bright yellow and GTspirit was on hand to gather the following images! As you're probably aware by now, the 2014 Porsche 911 Turbo S is just the latest in a long line of 911 Turbo models first introduced in 1974.
The 2014 Porsche 911 Turbo S comes fitted with a turbocharged 3.8-liter six-cylinder engine complete with direct injection. This produces an impressive 560hp and 710Nm of torque! That equates to an increase of 30hp and 10Nm of torque over the previous generation Porsche 911 Turbo S. Consequently, the 2014 Porsche 911 Turbo S can sprint to 100km/h in just 3.1 seconds and hit 200km/h from a standstill in 10.3 seconds. The car then features a limited top speed of 318km/h.
One of the most interesting aspects of the new Porsche 911 Turbo S are its active aerodynamics. As a result, it achieves an entirely new bandwidth of everyday utility, efficiency and performance, setting some of the highest values in each of these three disciplines.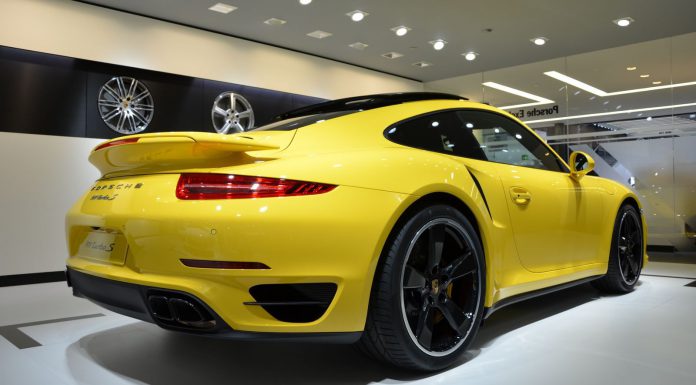 The car features a front splitter that can be extended in multiple stages and a rear slotted wing that is adjustable in height and attack angle. As a result, the 911 Turbo can adapt its aerodynamic shape to the current situation and to customer wishes at the press of a button. It is the first vehicle that can switch back and forth between different aerodynamic modes while preserving the balance of aerodynamic lift between the front and rear axles.