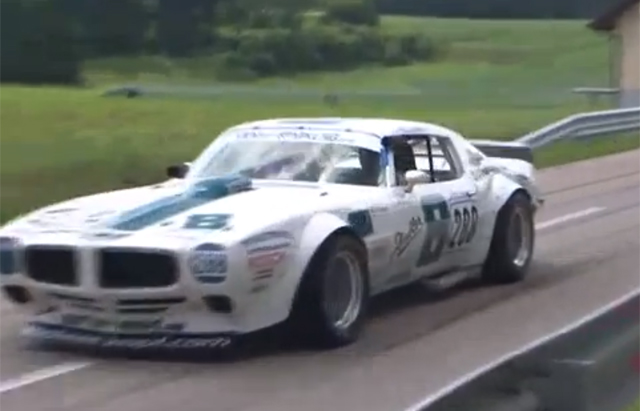 Sure, Formula 1 and Le Mans may be some of the greatest spectacles in racing, but nothing beats out the pure cool factor of a local hill climb. Especially if you're driving a race-prepped Pontiac Trans Am that produces over 700 hp.
This particular Trans Am is competing in the Bergrennen Reitnau hill climb in Switzerland at the hands of Swiss driver Roger Bolliger. For fans of the Trans Am series back in the 1970s, the car should look pretty familiar. The car is in fact a complete replica of the Trans-Am driven by Jerry Titus in the 1970 season of the series that gave the car its name.
[youtube]http://www.youtube.com/watch?v=7ll_mLkVo4Q[/youtube]
According to the spec sheet provided in the video, the engine is a tuned Pontiac unit from Butler Performance in Leoma Tennessee. Maximum horsepower of 700 comes in at 6,100 rpm with 860 Nm of torque at 4000 rpm. Ideally you would want more low down torque in a hill climb bar, but it's pretty cool nonetheless. All this power is fed through a four-speed manual gearbox. Top speed is reported as 311 km/h.
Via: Jalopnik