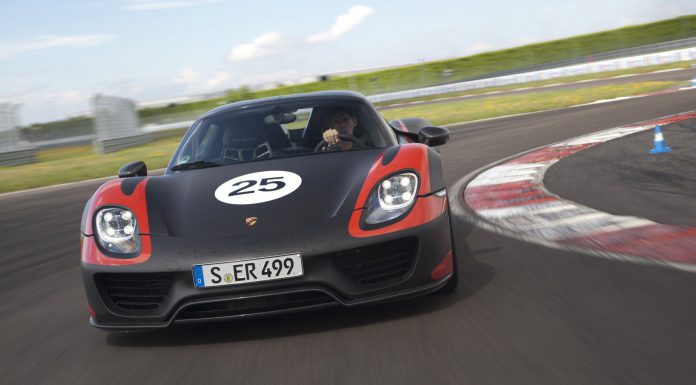 We all knew it was coming and finally, Porsche has officially confirmed that the productions-spec 2014 Porsche 918 Spyder will make its world debut at the upcoming IAA Frankfurt Motor Show 2013.
When first released as a concept car back in 2010, the Porsche 918 Spyder was believed to produce 795hp, but recent reports suggested that on the back of the 900hp+ LaFerrari and McLaren P1 being revealed, the Porsche 918 Spyder would feature an insane 875hp when it hits the production line.
However, in a recent Chris Harris on Cars video, it's was revealed that the Porsche 918 Spyder produces 887hp and over 920lb-ft of torque! That horsepower figure puts it slightly behind the McLaren P1 and LaFerrari, but the torque output is significantly more than the 664lb-ft of torque of the McLaren P1 and LaFerrari.
Additionally, in an interview with Porsche's product manager James Eastwood, it's been revealed that Porsche believes that under the right circumstances, the 2014 Porsche 918 Spyder will be faster than the McLaren P1 and LaFerrari primarily through the corners because of its advanced torque-vectoring system.
"Although our car is heavier, its technology can make the car faster [in certain conditions]. In rear-drive cars like our competitors, you still have to do all your braking in a straight line, compromising corner-entry speed. Thanks to the 918's torque-vectoring and independently-driven front wheels, we can maintain better drive and achieve higher entry and mid-corner speed.", said Eastwood.