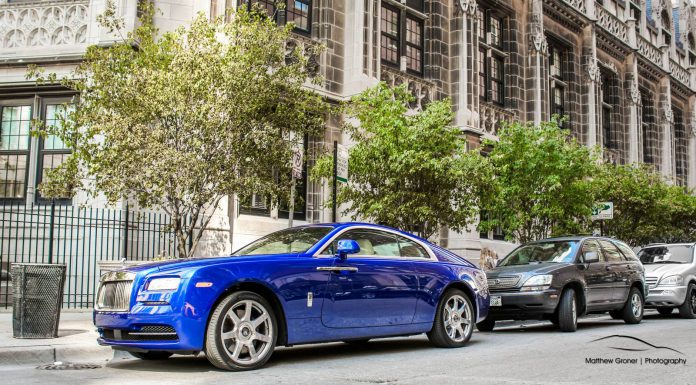 While the 2014 Rolls-Royce Wraith only recently debuted at this year's Geneva Motor Show in early March, a stunning blue example was recently spotted in Chicago.
The following image was taken by Matthew Groner Photography and is well deserving of being our latest Photo Of The Day!
The Rolls-Royce Wraith has been designed as a luxurious, refined and exclusive Grand Tourer. It is a fastback design, as many have expected. The Wraith receives the typical Rolls-Royce traits including a two-tone paint scheme and a modern Rolls-Royce grille.
The Rolls-Royce Wraith is built using traditional methods. Instead of a modern aluminium body, the Wraith uses a steel monocoque body. The advantages are simple. First, it means that the body panels and the chassis are one and the same. It gets a double front bulkhead that insulates from engine and road noise. In total, 6,364 individual spot-welds are applied to Wraith with 900m laser welded seams.
The Rolls-Royce Wraith develops 624bhp and 800Nm of torque from a 6.6 litre twin-turbo V12 with direct petrol injection. This makes it the most powerful Rolls-Royce ever! This means the Wraith will hit 62mph in just 4.6 seconds and go on to an electronically governed top speed of 155mph. The power is routed through an eight speed, automatic ZF transmission to the rear wheels.