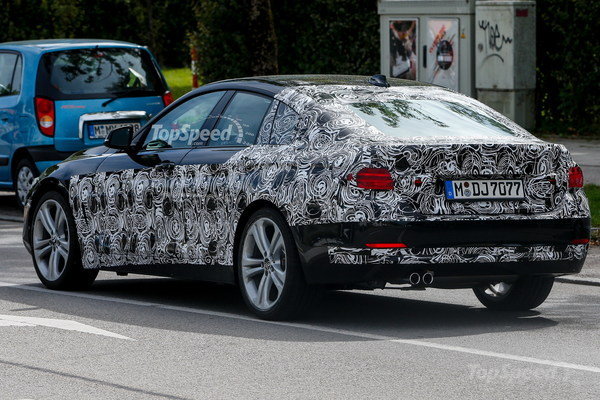 As it turns out, the all-new BMW 4-Series range won't be solely two doors variations of the BMW M3 with BMW instead looking to make the 4-Series range stand on its own two feet. In order to do this, a selection of other BMW 4-Series' will be available with the latest, the BMW 4-Series Grancoupe recently being spied for the very first time.
As the following image shows, this prototype is wearing only minimal camouflage on the front and heavy camouflage at the sides and rear obviously helping to hide the newly styled rear-end. Another notable difference between this BMW 4-Series Grancoupe prototype and two door BMW 4-Series variants such as the M4, is its significantly higher ride height.
Additionally, the BMW 4-Series Grancoupe ditches the fairly aggressive look of the regular 4-Series models in favour of a more sleek and curvy appearance. This is particularly evident in the new front end.
From the rear, this prototype clearly sports the customary BMW Grancoupe shape meaning an elongated tail-end including a sloping rear window.
Powertrain details about the 2014 BMW 4-Series Grancoupe are extremely limited at the moment, but expect to be offered with the same engines as the 4-Series Coupe and Convertibles. That will likely include a few diesel powerplants.
[Via TopSpeed]