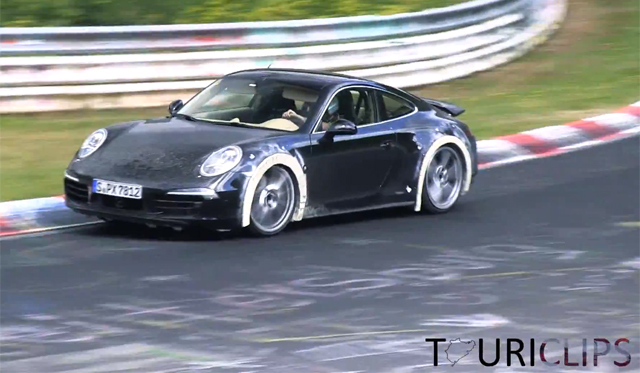 What's believed to be an early prototype for the upcoming 2014 Porsche 911 Carrera 4 GTS was recently filmed at the Nurburgring by TouriClips on YouTube.
The following video comes just a few weeks after spyshots of the prototype emerged. The prototype features temporary wider wheel arches as well as quad exhaust pipes and a rear end similar to the 2014 Porsche 911 Turbo and 2014 Porsche 911 Turbo S. The rear wing can be seen in the raised position and is not fixed, just like the previous generation 2014 Porsche 911 Carrera 4 GTS.
[youtube]http://www.youtube.com/watch?v=ZW6ervWNEnQ[/youtube]
The standard 991-generation Porsche 911 Carrera 4 is powered by a 3.4-liter flat-six engine delivering a total of 350hp. Conversely, the Porsche 911 Carrera 4S features a much more potent 3.8-liter flat-six engine producing a total of 400hp helping to rocket the German sports car to 100km/h in just 4.1 seconds and a top speed of 300km/h.
While it's not known if this is a Porsche 911 Carrera 4 GTS or Carrera 4S GTS or even an entirely new Porsche 911 variant, it'll likely to sport more than 400hp placing it somewhere between the regular Porsche 911 Carrera 4S and the Porsche 911 Turbo in Porsche's current line-up.
One notable thing obvious from the following prototype is its lack of an exhaust note. As a matter of fact the engine or exhaust can't even be heard of the tire squeal!