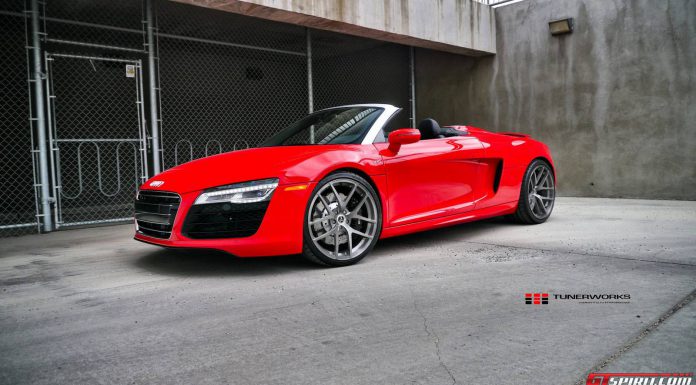 Tunerworks Performace based in Calgary Canada and is an installation centre for high-performance parts, accessories and custom wheels. The company has been working on the 2014 R8 V10 Spyder and results as you can see for yourself are spectacular. They have tastefully equipped the car with 20" Modulare B18 in Brushed Tinted Finish Wrapped in Michelin Pilot Super Sport tires with massize 325/25R20 Rear Tires which fill the arches of this tenacious supercar giving it an edgy and fresh look.
The Brushed Tinted Finish complements the Audi Brilliant Red and the Black Fine Nappa Leather very well adding to the overall aggression of the Spider.
The 5.2 liter V10 in this Spyder not only produces a superb soundtrack but with the legendary Audi Quattro system will launch the car from 0-60mph in impressive 3.8 second all whilst making you feel like Iron Man!