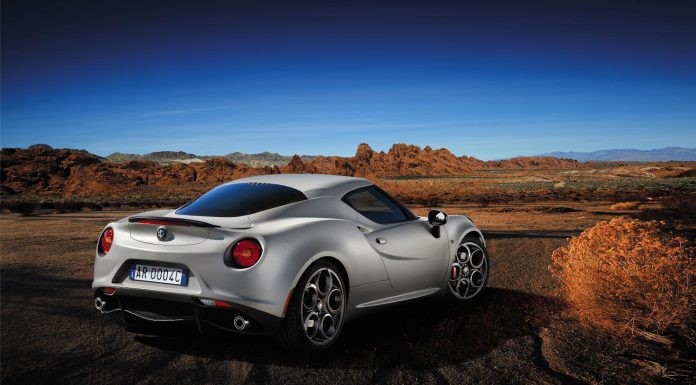 Every single detail about the brand new 2014 Alfa Romeo 4C has been leaked online via an official brochure for the market-redefining sports car. The brochure includes all the technical details about the Alfa Romeo 4C, much of which we already knew, but also all the visual and performance optional extras.
From a visual standpoint, the 2014 Alfa Romeo 4C can be ordered in one of six exterior colors. They are Rosso Alfa (Red), Rosso Competizone (Red), Schwarz (Black), Weiss (White), Perlinutt-Weiss (Pearl White) and silver. Other exterior features include four different wheel options as well as four different brake calipers color options. The 2014 Alfa Romeo 4C can then be optioned with black wing mirrors as well as an optional bootlid spoiler and what appears to be a sports exhaust pipe system.
Moving to the interior, the 4C can be purchased with one of four interior options with the most outlandish being red leather.
As a reminder, the Alfa Romeo 4C features a 1.75-liter four-cylinder turbocharged engine delivering 241hp at 6,000rpm and 350Nm of torque at 2,100rpm-3,750rpm. While such a powertrain doesn't sound all that impressive, the 895kg dry weight of the Alfa Romeo 4C will make it sprint to 62mph in just 4.5 seconds, which is four-tenths quicker than a Porsche Cayman S equipped with the expensive PDK transmission!
The Alfa Romeo 4C can then continue on accelerating to its top speed of 258km/h. Those impressive achieves can be achieved thanks in part to the 4C's light 895kg curb weight.
[Via AutoEdizione]