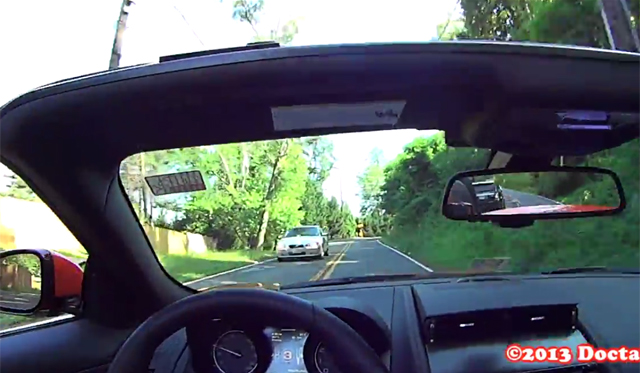 DoctaM3 recently had the awesome opportunity to drive the brand new 2014 Jaguar F-Type V8 S on the road a few months after we had the chance to give it a spin. However, DoctaM3 managed to mount a portable action camera on his head giving us the perfect POV drive of the powerful-supercharged V8 F-Type!
The following video captures the car's impressive exhaust note perfectly and makes for a really enjoyable and thrilling video!
[youtube]http://www.youtube.com/watch?v=EvfmQnkeUpE#t=300[/youtube]
The V8 S is the daddy of the F-Type range. It gets the same familiar 5.0 litre Jaguar unit as we have seen in cars like the Jaguar XKR, XFR and XJ Super Sport. It is slightly detuned for the F-Type, producing 495hp rather than the 510hp we have become accustomed to. Yet the F-Type is a lighter, smaller package and can in fact feel every bit as fast on the road. The F-Type V8 S reaches a limited top speed of 186mph with 100km/h in 4.3 seconds and 60mph in just 4.2 seconds.
Perhaps the most telling feature of the Jaguar F-Type V8 S is the grab handle incorporated into the centre console. Jaguar describes this feature as 'one plus one' layout. It is designed to place the emphasis on the driver. With technical trim materials on the driver's side, and a plain, minimalist look on the passenger side, the F-Type is definitely a car designed with the driver at its heart.