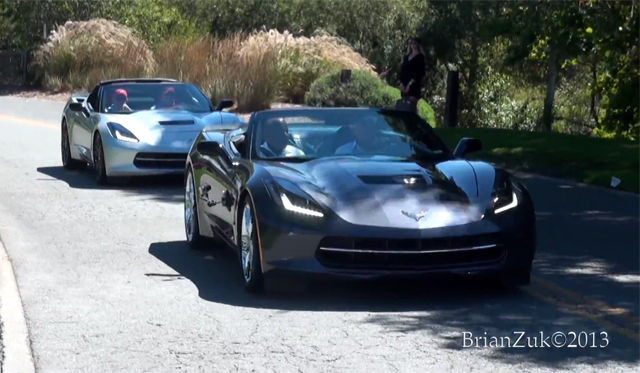 Jay Leno was recently spotted cruising in the brand new 2014 Chevrolet Corvette Stingray Convertible at the recently concluded Monterey Car Week 2013. While BrianZuk was only able to film the American talk show host for a few seconds, we hope that the new C7 Corvette Convertible could feature in an upcoming episode of Jay Leno's Garage soon!
When Chevrolet first released the 2014 Chevrolet Corvette Stingray around six months ago, it was announced that the base Corvette C7 would feature a 6.2-liter V8 LT1 engine producing 450hp and 450lb-ft of torque.
[youtube]http://www.youtube.com/watch?v=YJeePdAHKN4[/youtube]
However, those claimed figures were just estimates and Chevrolet recently confirmed that the 2014 Chevrolet Corvette Stingray coupe now produces 455hp and 460lb-ft of torque, 5hp and 10lb-ft of torque higher than previously estimated. By comparison, the Convertible version delivers a total of 450hp and 450lb-ft of torque.
In either specification, both are set to be insane burnout machines as shown in this video!