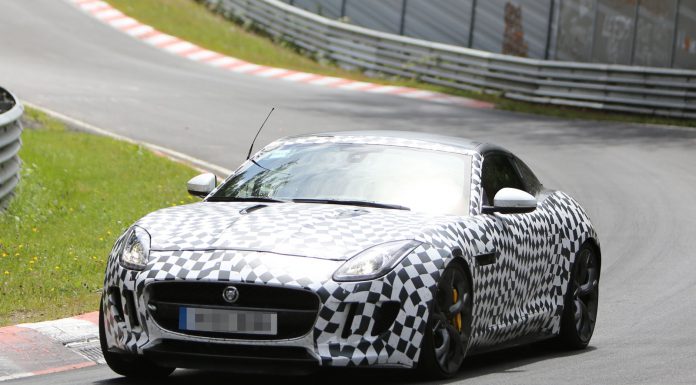 Another 2014 Jaguar F-Type Coupe prototype was recently spotted testing at the Nurburgring in what's believed to be he 'R' specification. If this is the case, then it fits in-line with Jaguar's recent announcement that all future and current Jaguar models will eventually be available in either R, R-S or R-S GT variants in the future.
While discussing these upgraded variants recently, Jaguar product planning manager Steven De Ploey revealed that the Jaguar F-Type could be a likely candidate to receive all three performance versions. If that's the case, then the Jaguar F-Type R Coupe will be the base performance model but likely more powerful and potent than the regular Jaguar F-Type Coupe V8 S.
Powering the Jaguar F-Type V8 S Convertible is a 488hp, 5.0-liter supercharged V8 engine and the Coupe variant is likely to receive the same engine. By comparison, the Jaguar F-Type Coupe R could receive an even more potent 5.0-liter supercharged V8 engine tuned to deliver upwards of 540hp.
This particular prototype was spotted sporting carbon ceramic brakes which are likely to come as standard on this upgraded version. Another notable change on this particular prototype are its redesigned alloy wheels hiding those massive brakes and bright yellow brake calipers.
With all this being said, it's still more than likely that this prototype could instead just be the V8 S model. Hopefully a video emerges soon so we can listen to the exhaust note for a closer inspection!
[Via Autocar]