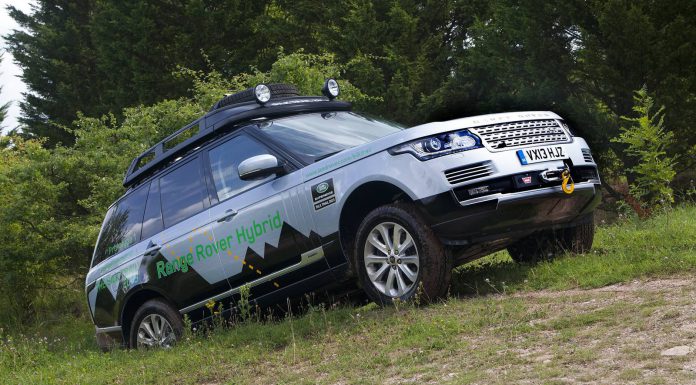 Land Rover has announced two new models to debut at the Frankfurt IAA 2013 next month. Both use the same diesel hybrid engines, with one fitted to the Range Rover Hybrid and a second fitted to the Range Rover Sport Hybrid. Land Rover's press release descriebs them as the first premium diesel SUV hybrids.
The headline figure is obviously the engine, everything else is typical Land Rover inside and out. The drive is suppplied by JLR's 3-litre SDV6 diesel engine coupled to a 35 kW electric motor. Together, the combination produces a solid 340 PS and a class-leading 700 Nm of torque. Power is driven through an 8-speed ZF automatic transmission and the entire hybrid setup adds less than 120kg to the package.
The motor also acts as a generator, harvesting kinetic energy through regenerative braking, charging the battery when the vehicle is slowing. In driver-selectable EV mode the Range Rover Hybrid can travel at speeds of up to 30mph (48km/h) for a range of up to one mile (1.6km) before the diesel engine seamlessly restarts.
Performance figures include acceleration up to 100 km/h is acheived in under seven seconds. A top speed of 218 km/h is possible whilst CO2 emissions are further reduced by 26 percent to 169g/km and economy is improved to 44.1 mpg on the combined cycle. The liquid cooled, battery pack is mounted beneath the floor of the vehicle in a protective boron-steel cradle without impacting on the cabin or luggage space.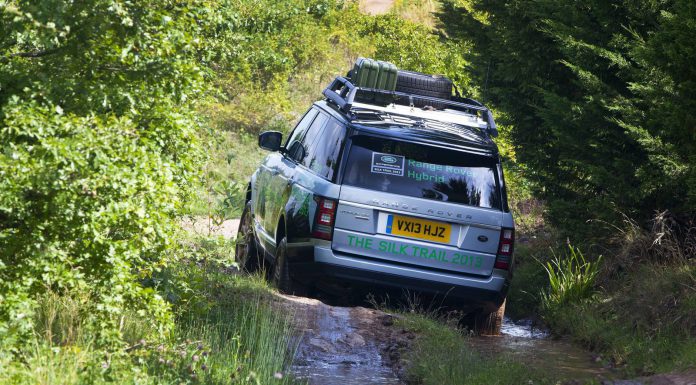 Ahead of the official debut next month at IAA 2013, three examples of the hybird engined offroaders will head on a transcontinental road trip along the "Silk Trail" from the factory in Solihull, England, to Tata's headquarters in Mumbai, India. The trip is expected to last until October 15, crossing 10,000 miles through 12 different countries.