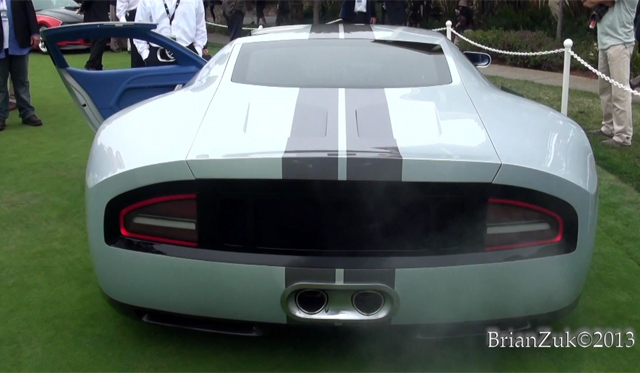 The brand new Galpin Auto Sports GTR1 was recently filmed by BrianZuk at the Monterey Car Week 2013 on the move for the very first time, and the insane exhaust note has made the wait well worth while!
Packing an awesome amount of power, head turning looks and an (as yet) unrevealed price tag, the Galpin Ford GTR1 holds promise!
[youtube]http://www.youtube.com/watch?v=Kx_ppItzz8Q[/youtube]
It features an all aluminium body designed in house and constructed by renowned concept car builder, Gaffoglio Family Metalcrafters of Fountain Valley, California. It is the product of 12,000 man hours. Customers will be able to choose from carbon fiber coachwork or an identical aluminium body as fitted to the display car.
The headline figures are 1,024hp and 739 lb-ft of torque developed from a twin-turbocharged 5.4 litre V8 engine. Fitted at all four corners are 20 inch forged aluminium knock off wheels shod with Pirelli P-Zero tires. Stopping power is provided by 6 piston brakes with full carbon rotors. The GTR1 is mechanically capable of speeds in excess of 225 mph, 0-60 mph in approximately three seconds and 0-100 mph in the mid-six second range.
Inside, the driver will be greeted by a machined aluminium instrument cluster, McIntosh sound system and equally exquisite hand fabricated leather trimmed seats, dash, door panels and headliner all available in the buyer's preferred color and stitching. The leather comes via Scottish experts Bridge of Weir.