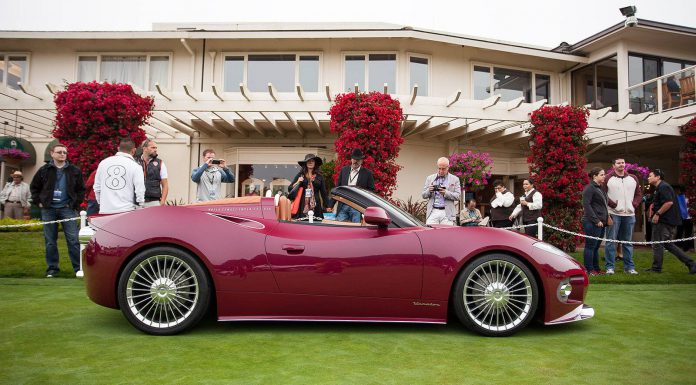 We've already taken a look at the new Spyker B6 Venator Spyder Concept at The Quail earlier in the week. Today we thought we'd take another look and capture it in more favourable light!
Based on the platform of the Artega GT, the Spyker B6 Venator Spyder Concept is the open-top version of the B6 Venator Coupé we saw at the Geneva Motor Show 2013. The design is typical of the Dutch brand. It gets a 2-door mid-engine setup with plenty of aviation influence. The grille features the typical Spyker circular opening and the fairings feature the axiom "Nulla tenaci invia est via" – which translates to "For the tenacious no road is impassable".
Underneath the Spyker extravagance, owners will get an all-aluminium chassis. The engine is a transverse mounted V6 producing 375hp to the rear wheels via a 6-speed semi automatic gearbox. Overall, the B6 Venator Spyder concept weighs in at 1400 kg.