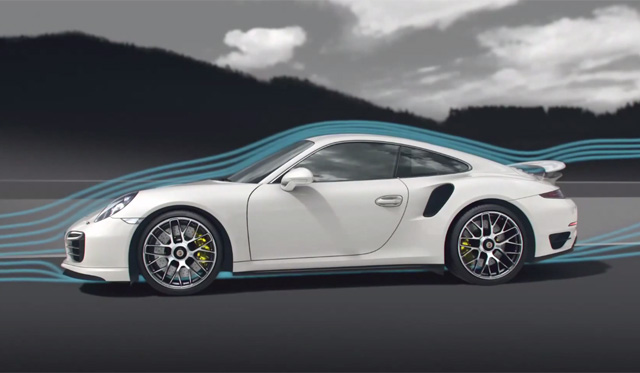 Porsche has just released an entertaining and extremely informative video showcasing the advanced active aerodynamics of the brand new 2014 Porsche 911 Turbo.
The following video showcases all the aerodynamic features of the new car you'd ever care to know about, with some of the most notable aerodynamics improvements including a front splitter which can extend for greater downforce, as well as a rear spoiler which raises and tilts to provide more downforce at the rear. All told, at top speed, the 2014 Porsche 911 Turbo produces a total of 150kg.
As a reminder, the 2014 Porsche 911 Turbo as well as the Turbo S are powered by a twin-turbo 3.8 liter, direct-injection and 6-cylinder boxer engine discharging 520hp in the Turbo model and 560hp in the Turbo S model. In both cases, that powertrain is then mated to a 7-speed dual-clutch PDK transmission completed with a stop-start system.
Porsche developed a new version of their PTM-Porsche Traction Management fitted to the four wheel drive system of these Turbo models meaning the Turbo model now sprints from 0-100km/h in just 3.2 seconds. The new Turbo S does the same in just 3.1 seconds and a top speed of 318km/h.
Let us know what you think about the active aerodynamics of the new 2014 Porsche 911 Turbo below!