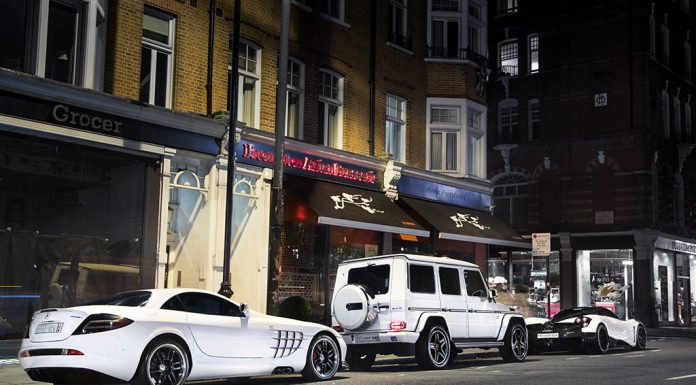 Seeing Arabian supercars is becoming the norm in London. Saudi Aventadors and Qatari 458's are almost becoming common and can be seen buzzing around the streets and hotels of Knightsbridge.
Seeing a Mercedes McLaren 722 or Pagani Huayra is something special when found alone. So when Alex Penfold caught this trio of white-bodied black-rimmed machines parked together in London it was certainly a sight to behold!
The three cars all reflect very different personalities and traits but the 641bhp engine of the 722, the 544bhp G63 and the Huayra's 730BHP engines are all hand built in Germany by AMG, surely an example of the versatility and flexibility of the manufacturer that is also due to start working with Aston Martin in the near future. The SLR 722 is one of the best GT's, the Huayra one of best hypercars and the G Wagon one of the best cruisers, the perfect three car garage?