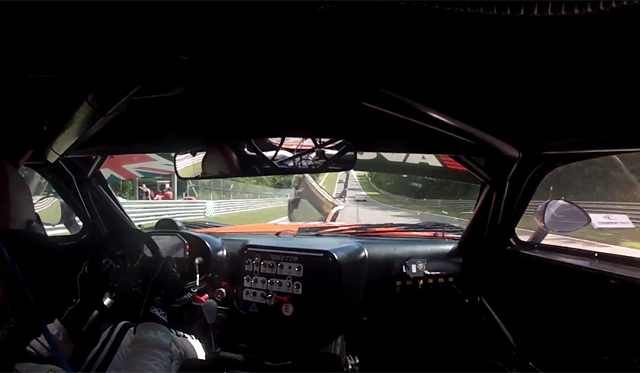 If you're a Formula One fan you may recall the horrific incident involving Felipe Massa from a few years back when a rogue spring hit him in the face in the middle of a Formula One Grand Prix. That left him severely injured and unfortunately, flying objects remain a constant risk to racing car drivers of all disciplines.
At a recent Avon Tyres British GT race at Brands Hatch, the Ginetta G55 GT3 of Mike Simpson suffered such an incident when a door from a competitor's car flew off and struck the windshield of the Ginetta at over 140mph. As you'd imagine, it completely shattered the windshield, and damaged the radiator but fortunately didn't make its way into the cabin.
What's arguably even more amazing than watching a Ginetta G55 GT3 being hit with a door at 140mph is the fact that Simpson continued to drive the wounded racer around the track at full speed before being forced into the pits and having to retire from the race.