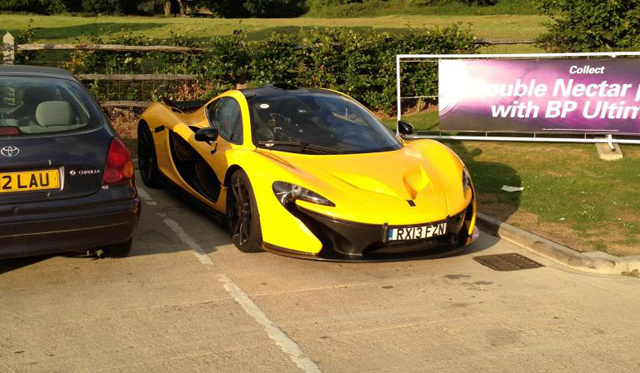 With the release of the production spec McLaren P1 well out of the way, McLaren Automotive has begun final testing of completely undisguised McLaren P1 prototypes and the following yellow example was recently spotted at a BP service station in England.
Hints which give this example away as a prototype is that the McLaren badges have been covered, it doesn't feature the additional air intakes in front of the front wheels and doesn't feature production spec taillights.
The McLaren P1 uses a mid-mounted 3.8-litre twin-turbo V8 petrol engine fitted with two turbochargers and an electric motor. Together, this produces 916ps (903bhp) and a maximum torque figure of 900Nm. The petrol engine alone produces 737ps (727bhp) at 7,500rpm, and 720Nm of torque from 4,000rpm with the electric motor supplementing 179ps (176bhp) and 260Nm of torque. The power is channelled through the dual-clutch seven-speed gearbox to drive the rear wheels.
Cutting straight to the performance figures, the McLaren P1 will travel from zero to 100km/h in less than 3 seconds, zero to 200km/h in under 7 seconds, and zero to 300km/h in no more than 17 seconds. This is thanks, in part to the Instant Power Assist System (IPAS) which is essentially KERS, for road cars. Putting the 300km/h statistic into perspective, this is 11 seconds faster than the legendary McLaren F1 road car. Top speed is electronically limited to 350km/h.
[Via Luxury 4 Play]