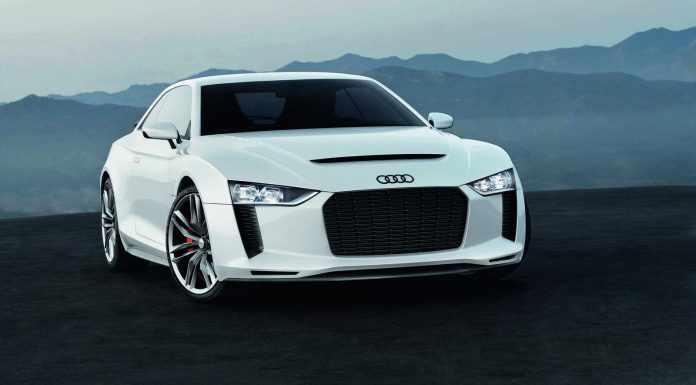 A couple months ago it was revealed that a brand new Audi Quattro Concept would be heading to the IAA Frankfurt Motor Show 2013. Well, now new information has come to light suggesting that the car will be based on the platform of the Audi A6.
Additionally, it's being reported that the 2014 Audi Quattro Concept will tip the scales at just 1200kg due to its extensive use of lightweight carbon fiber and aluminium. Additionally, that light kerb weight is despite the 2014 Audi Quattro Concept expected to measure around 4.6 meters in length.
Back in 2011, Audi debuted a similar Quattro Concept which featured a 2.5-liter five-cylinder engine producing 408hp and 354lb-ft of torque. While those figures are certainly impressive, the updated 2014 Audi Quattro Concept is expected to feature a significantly more powerful engine with a twin-turbo 4.0-liter V8 engine expected to debut with at least 650hp!
If that horsepower figure turns out to be accurate, then the 2014 Audi Quattro Concept should be able to sprint to 62mph in well under 3.5 seconds and onto a top speed nearing 200mph. In addition to the uprated engine, the new Audi Quattro Concept will have a much sharper shape than the original 2011 Audi Quattro Concept.
From a handling and braking standpoint, the 2014 Audi Quattro will feature carbon-ceramic brakes, sport-tuned suspension complete with adaptive dampers as well as a sport Quattro rear differential.
If it receives a positive reception, it's possible that Audi's in-house performance arm, Quattro GmbH could construct the car in limited numbers at around $150,000 each.
[Via Autobild]