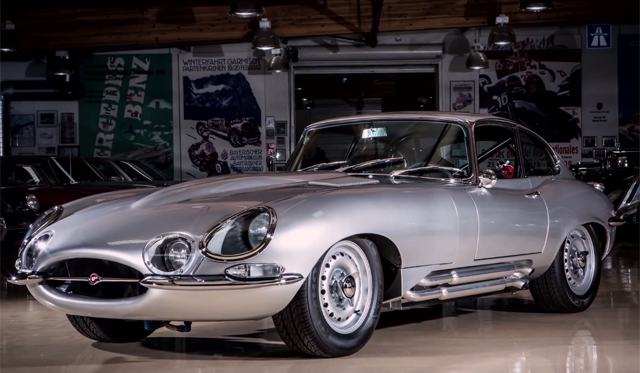 The Jaguar E-Type has long been considered as one of the world's most attractive cars ever produced and without a doubt, one of the most recognisable cars produced in the United Kingdom. Whether or not you were alive at the time of the Jaguar E-Type's release in the early 1960's, almost all automotive enthusiasts can agree that it's a truly historic car.
As we know, American talk show host Jay Leno is a huge fan of classic sports cars like the Jaguar E-Type and was consequently more than happy to feature a heavily modified 1964 version in the latest episode of Jay Leno's Garage. However, this particular 1964 Jaguar E-Type wasn't just your regular one and has instead been heavily modified and restored by Jason Len from XKs Unlimited.
To start with, the floor of this 1964 Jaguar E-Type was lowered to allow Jason Len to fit inside, with the rest of the interior then being expanded while retaining the same exterior dimensions of the original E-Type. The car was then fitted with an aluminium hood as well as a set of two additional headlights originally used in Le Mans racing.
Additionally, this 1964 Jaguar E-Type features the same small winglets raced at Le Mans. Under the hood, this 1964 Jaguar E-Type features a 3.8-liter inline-six cylinder engine producing a total of 300hp. That equates to 70hp more than the standard E-Type.