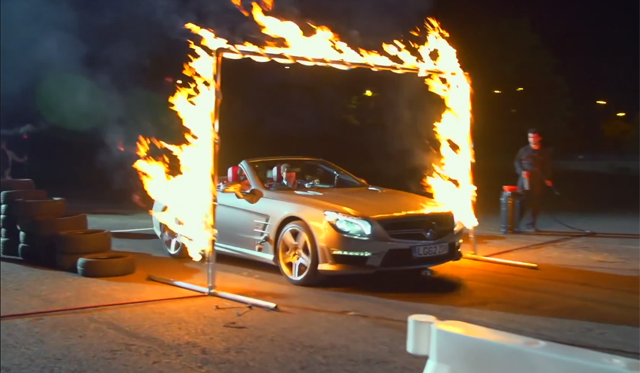 World renowned magician Dynamo recently put his amazing skills on display yet again. However, making his latest stunt all the more noteworthy is that it involved former Formula One racer David Coulthard as well as the potent Mercedes-Benz SL 63 AMG.
In his stunt, Dynamo instructed Coulthard to complete a lap of the circuit as fast as he could all while Dynamo himself was memorising each and every corner and the particular radius' of each as well as accurately locating each straight on the circuit. And as you can probably guess, that means only one thing; Dynamo attempting to drive around the racetrack completely blindfolded!
http://www.youtube.com/watch?v=k9DpUS3CEMw
Thanks to an all-aluminium bodyshell, similar to that of the SLS AMG supercar, the weight of the Mercedes-Benz SL 63 AMG has been reduced by 125 kilograms. With a kerb weight of 1,845 kilograms and an output of 537hp or 564hp (with the AMG performance package), the new model has a potent power to weight ratio.
An enhanced AMG sports suspension based on Active Body Control, new AMG speed-sensitive sports steering, AMG high-performance compound brake system and AMG Speedshift MCT seven-speed sports transmission are added to the setup of the AMG version of the all-new 2013 SL, which made its official debut at the Detroit Motor Show in January last year.