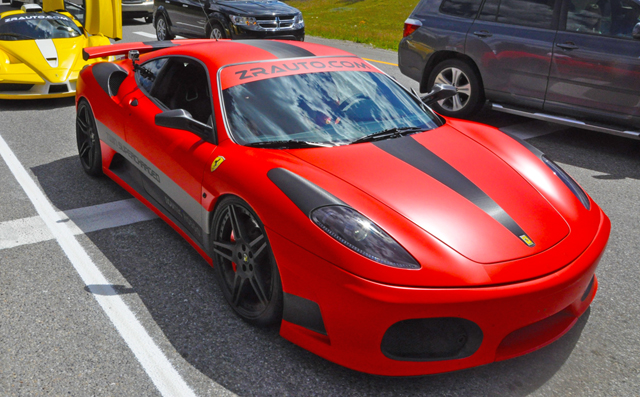 A couple of weeks ago we were invited on a drive with ZR Auto from Calgary, Alberta, Canada to the mountain town of Banff. Armed with an arsenal of cameras to catch the action, we were hoping to get a camera on one of Zahir Rana's high-horsepower custom supercars. Zahir was more than happy to let us put one of our cameras on his 707hp Novitec-Rosso Ferrari F430.
The Novitec Ferrari reached speeds in excess of 200 km/h on the straight roads leading up to the foothills of the Canadian Rocky Mountains. The matte red stallion chased its older brother, the famed ZR Auto Ferrari ZXX down the straight roads, giving us an incredible look at how a true ZR Auto car is driven.
The F430 is powered by a twin-supercharged F1 4300cc 32-Valve V8. The F430 is also outfitted with the Novitec high-flow stainless-steel exhaust system, modified ECU, reprogrammed 6-speed sequential transmission, forged Novitec NF3 racing wheels, full Novitec aero package and a custom matte red/matte black wrap. Also worth noting is that this special Novitec-tuned F430 is now up for sale by ZR Auto.
Now strap in and enjoy the sights and sounds of the Novitec F430 as it tails the ZXX en route to Banff: