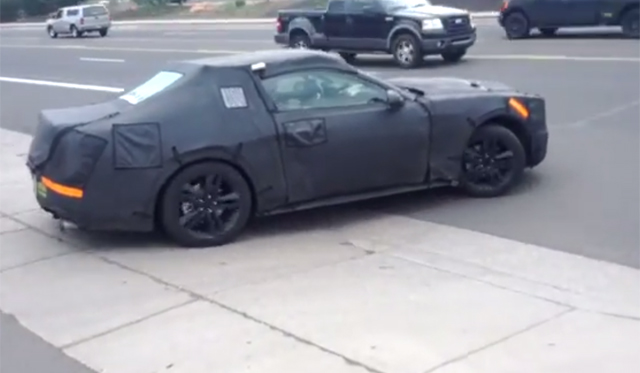 With testing of the 2015 Ford Mustang well under way, Ford is inevitably testing all the various powerplants set to be found in its various different variants. Up to this point we've only ever heard the big 5.0-liter V8 engine being tested, but now the very first clip, while very short, has been released showcasing a 2015 Ford Mustang equipped with the small EcoBoost four-cylinder engine.
In recent times, there have been conflicting reports about how much power the EcoBoost four-cylinder engine borrowed from the Ford Fiesta ST will deliver when fitted to the 2015 Ford Mustang. Recent reports from Australia claimed that the small engine would produce just 248hp, 4hp less than the Ford Fiesta ST. However, this conflicts with most reports suggesting that the car will feature a larger displacement 2.3-liter engine, up from the standard 2.0-liters, and ultimately produce anywhere from 300hp to 350hp.
What leads us to believe that this particular 2015 Ford Mustang prototype is fitted with the EcoBoost engine is that it's small turbocharger can be heard spooling up as the prototype drives away. Other than that, the EcoBoost four-cylinder engine believed to be found in this prototype develops a very subdued soundtrack.
As for the remaining variants of the 2015 Ford Mustang, they're set to include a 3.7-liter V6 version to either sit below or just above the four-cylinder engine in the power department, a 5.0-liter V8 Coyote engine as well as the range-topping 5.8-liter supercharged engine.