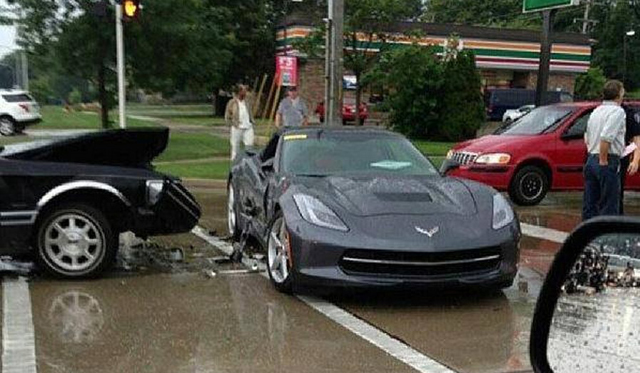 A 2014 Chevrolet Corvette Stingray fleet vehicle was recently involved in a crash in the U.S. which saw an old Lincoln TownCar smash into the passenger side of the American supercar in the middle of an intersection.
Deliveries of the 2014 Chevrolet Corvette Stingray have yet to begin, and this particular car featured manufacturer license plates with the crash taking place near the GM Technical Center in Warren.
The new 2014 Chevrolet Corvette Stingray is the most powerful base Chevrolet Corvette ever produced, with 450hp being produced from its new generation LT1 GM V8 engine. As a result, the new car surpasses the previous generation base C6 substantially in every performance aspect and is able to launch to 100km/h in under four seconds, pulling over 1G when cornering and being able to stop from 100km/h in a similar time to the Chevrolet Z06 Corvette.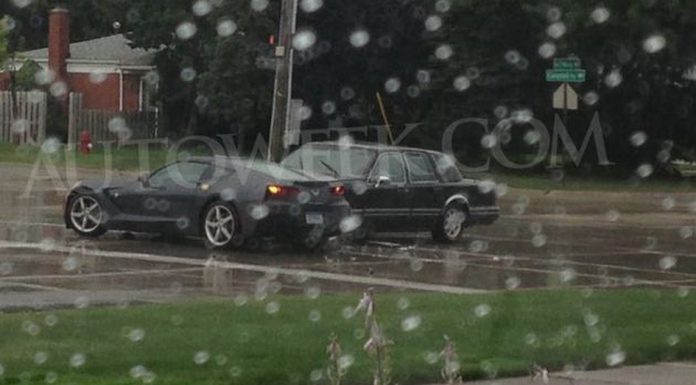 To top of the impressive engine powering the brand new Corvette, it also makes use of a seven-speed TREMEC manual transmission with Active Rev Matching. As its name suggests, the Active Rev Matching helps the driver perform the perfect up-shifts and down-shifts no matter their experience level.
For those who prefer to relax when driving, the new 2014 Chevrolet Corvette Stingray is also available with a six-speed paddle-shift automatic transmission which will also utilise Active Fuel Management just like the manual. Furthermore, the automatic transmission is also fitted with a launch control function.
[Via Autoweek]