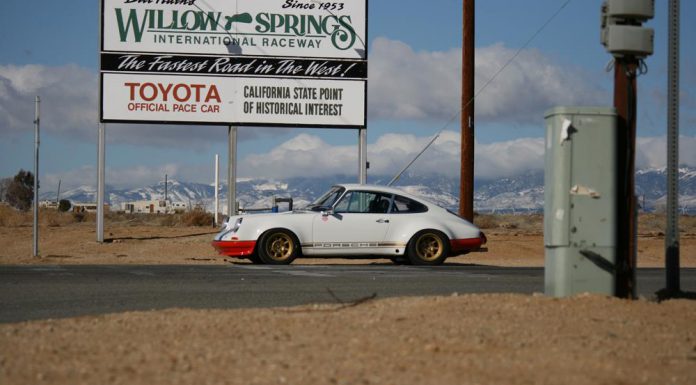 Magnus Walker, a clothing designer and Porsche 911 enthusiast, was spotted with his Porsche 911 72 STR 002 at Willow Springs Raceway. The track is located in Willow Springs, California which is about an hour north of Los Angeles. The historic Willow Springs Raceway has been around since 1953 and is now one of the most infamous American circuits. The main configuration of the track is 2.5 miles long as has been an unchanged since the track's beginning days in 1953. Located at the bottom of a mountain it offers a challenging layout that uses the natural elevation of the surroundings.
Being a designer, Magnus enjoys personalizing his cars. As some of his cars may look normal, they most certainly are not. Mr. Walker adds his own signature touches and customizations while preserving the timeless looks and heritage of his 911. Back in March, Walker was featured with his 911 72 STR 002 on an episode of Jay Leno's Garage.
Although the engine in his 911 72 STR 002 is not stock, Walker actually still owns the factory motor and keeps it in a warehouse in case he decided to put it back in the car. Some other modifications that he's made to the car are that he removed the front turn signals, flared the fenders a bit more, installed a race-inspired center gas filler cap on the hood, and other exterior modifications which gives this classic 911 more of an aggressive look.