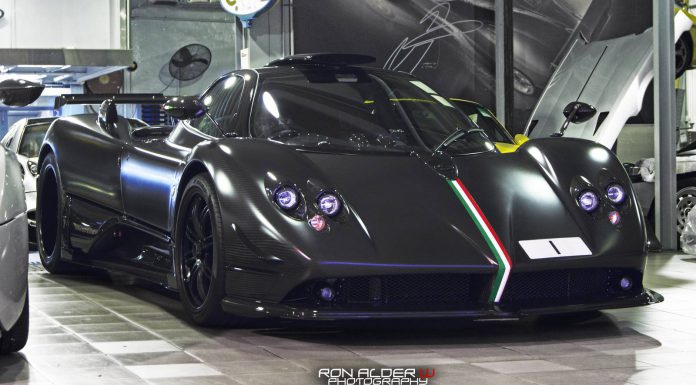 Our latest Photo Of The Day comes from Ron Alder W Photography who we recently featured with a stunning gallery of some incredible Paganis he'd spotted around Hong Kong. This image is of one of the most extreme Pagani Zonda's built to date, being the one-of-one Pagani Zonda Absolute.
Rumour has it the owner of the Absolute has one of the largest Pagani collections in the world and already owns a Pagani Zonda Cinque and a Pagani Zonda R. Of course having a Pagani collection of any size shows ones true passion for supercars and great taste in them, and commissioning a one-off example just cements the owners passion for the best automobiles.
The Zonda Absolute is finished in a combination of matte carbon fiber and gloss carbon fiber and features many black details like the Pagani Zonda Cinque wheels and the matte black Zonda Absolute badge. The Italian flag pays homage to the birth place of all Paganis.
Check out this stunning photo gallery of the Pagani Zonda Absolute from a couple of years ago!