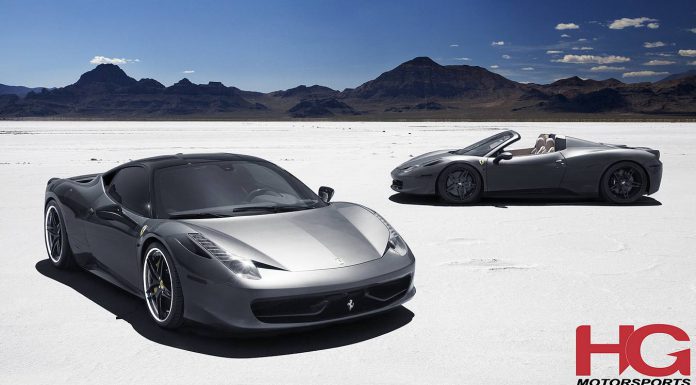 At GTspirit we start this morning with a duo of two Ferrari 458s. A 458 Italia and 458 Spider captured by Gabriel Milori, the cars itself are quite impressing, but in this case their surrounding is at least as impressive as the two Italians: The Bonneville Salt Flats in Utah!
The Bonneville Salt Flats are a unique and densely-packed salt pan in Tooele County in northwestern Utah. On the location of the salt flats used to be a lake that disappeared tens of thousands of years ago. It is one of many salt flats located west of the Great Salt Lake and well known for land speed records. The land speed records are held at what is called the "Bonneville Speedway", a part of the Bonneville Salt Flats dedicated to Motorsports.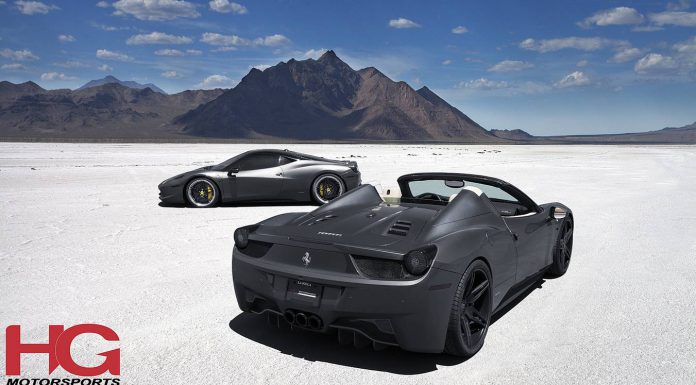 There are five major land speed events that take place at the Bonneville Salt Flats. Bonneville "Speed Week" takes place mid-August followed by "World of Speed" in September and the "World Finals" in early October. These three events welcome cars, trucks and motorcycles. The "Bub Motorcycle Speed Trials" are for motorcycles only. World records are contested at the Mike Cook ShootOut in September.
Just like the lake, the Bonneville Salt Flats are also decreasing in size. Instead of geological reasons this has to do with salt mining in the area. Its estimated that over 60% of the Salt Flats already disappeared due to the mining of Brine that is used to make fertilizer. Hopefully the Salt Flats survive for future generations to break land speed records..