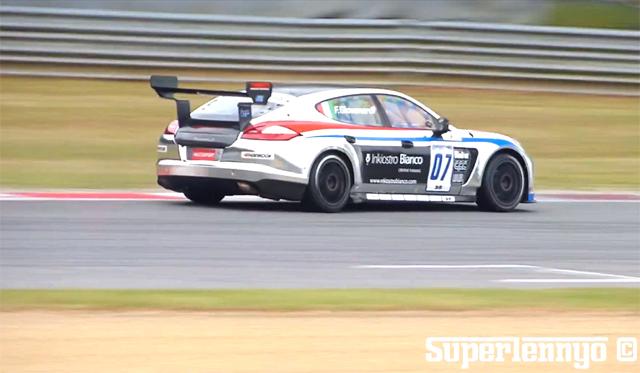 With the incredible Porsche 911 being a true favourite in various racing series' around the world thanks to its performance prowess, other Porsche models are rarely seen on the race track. However, there is one exception to that rule with this Porsche Panamera S race car which competes in the Superstars International Series held annually since 2004.
The competition is a production-based touring car championship and includes entrants such as the Audi RS5, BMW M3, Cadillac CTS-V, Chevrolet Camaro, Jaguar XF, Lexus IS-F, Maserati Quattroporte, Mercedes-Benz C63 AMG and the Porsche Panamera you see here.
In order to take part in the competition, each car has to abide by the following technical regulations. Each car must have an engine ranging from 6 to 12 cylinders, forced induction can be used if the production car utilises it, each car must have an engine displacement of at least 3800cc, feature a production H-pattern transmission or approved mechanical sequential gearbox and the car has to be homologated for at least 4 occupants for road use.
The Porsche Panamera which competes in the Superstars International Series features the Porsche M48/20 engine which is a 4.8-liter V8 engine.
Prior to last year, every driver's championship from 2004 to 2011 was won by an Italian driver.