The Golden Rolls-Royce that caused the accident in Munich, seen June 2009
This is the incredible story of an accident involving two Rolls-Royce Phantoms and a hit and run. We take you back to Munich, Germany in July 2009. A business man from Dubai travels down the well-known Maximillianstrasse in the center of town on the way back to his hotel. In the quest for a parking spot, not easy with the 6 meter long Phantom, he spots one on the other side of the street and makes an uncontrolled u-turn that ends with a collision with a parked vehicle. That parked vehicle is the Rolls-Royce Phantom Drophead of a local car dealer.
The coincidence alone that two Rolls-Royce Phantoms, of which there were only around 5,000 all around the world back in 2009, collide is bizarre enough but the saga continues: After the accident the owner of the Dubai registered Phantom flees into his hotel, the equally well-known Kempinski Vier Jahreszeiten hotel, before the police arrives. In this case literally a hit-and-run. The local police department towed away the damaged Rolls-Royce the same evening. The next day the owner of the Gold Phantom reports at the police station and after paying 1,500 Euro in fees for the tow service, he and his Phantom are free to go.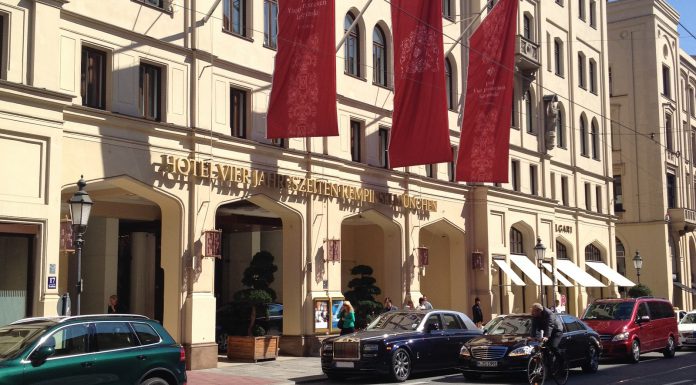 The location of the accident at the Maximillianstrasse in Munich
The Phantom and his owner return to Dubai on the next flight, never to be seen in Munich again. Just when you think this saga comes to an end there's something else.. It turns out the Rolls-Royce from Dubai didn't have valid insurance for Germany and the rest of Europe. The Rolls-Royce Phantom Drophead that was hit by the Gold Phantom suffered severe damages and with the other Rolls-Royce and its owner safely back in Dubai there was nobody for the car dealer from Munich to claim the damages on.
This lead to a lawsuit against the State of Bavaria, claiming that the police department should not have released the vehicle without checking if it had appropriate insurance. The court ruled recently that the State is not required to pay the 20,000 Euro in damages.
[Gold Phantom photos via Lars at Autogespot]