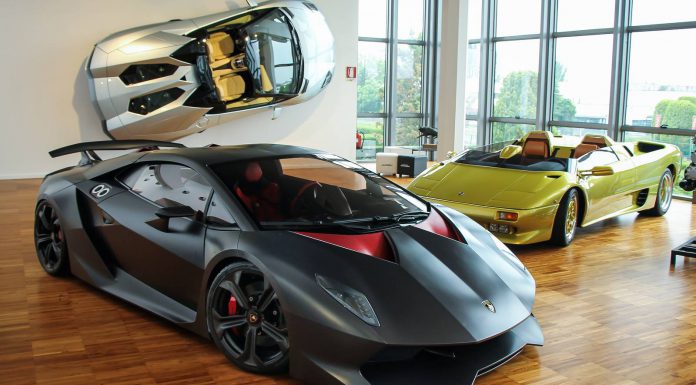 Our latest Photo Of The Day comes courtesy of Countach fan on Flickr and showcases the stunning Lamborghini Sesto Elemento alongside a Lamborghini Aventador Roadster hanging on the wall and a Lamborghini Diablo Roadster Concept at the Lamborghini Museum in Italy. The Sesto Elemento concept was only recently added to the collection of the Lamborghini Museum at the Lamborghini factory in Sant'Agata.
It's hard to comprehend that it's been over two years since the Lamborghini Sesto Elemento was released at the 2010 Paris Motor Show. It followed after numerous teaser shots were released and after much speculation that the car would in fact be the much-anticipated Aventador.
However, the Sesto Elemento still managed to stun crowds as did Lamborghini's later announcement that the car would be produced in limited quantities just like the Reventon and Reventon Roadster. Well after two years of further development and research, Lamborghini recently kicked off production for the 999kg supercar.
Lamborghini is producing the car in the new Pre-Series Center at the company's Sant'Agata headquarters, in a department specifically created for limited run production cars which require extra attention than the current Gallardo and Aventador.
Production of the Lamborghini Sesto Elemento takes place across five different workstations with 24 bright lights being utilised to check for any imperfections in the car's unique matte carbon fiber finish.
As we already know, the Sesto Elemento is the lightest production Lamborghini ever produced, tipping the scales at just 999kg and producing a power-to-weight ratio of 1.75 pounds per horsepower thanks to the 570hp engine borrowed from the Gallardo LP570-4 Superleggera.