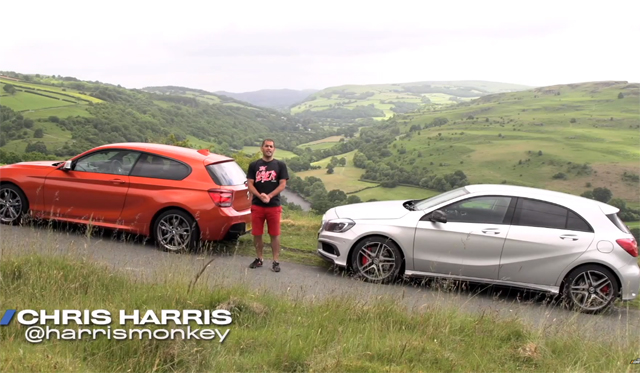 In the latest episode of Chris Harris on Cars for the Drive YouTube channel, the British journo gathered arguably the two fastest and most enjoyable hatchbacks in the world for one epic test those being the 2014 Mercedes-Benz A45 AMG and the BMW M135i.
The 2014 Mercedes-Benz A45 AMG marks the start of a new era for Mercedes-Benz and their AMG performance division. AMG's of the past have had a reputation for being crude, brash, tyre smoking brutes. Yet the A45 AMG seems to curtail that image somewhat. Even if we take the five-door hatch layout out of the equation, the A45 AMG still features a lower output engine and an out-of-character four-wheel drive system. What's more, Mercedes-Benz claim a 40mpg economy rating in a package to match entry-level supercars. When our invitation came for a test drive, we couldn't resist.
Fitted under the bonnet is a brand new 2.0-litre four-cylinder turbocharged engine rated at 360hp and 450Nm of torque. Despite the appreciable reductions, the AMG still sets the bar higher than its rivals. The four-cylinder is the most powerful 'series production' four-cylinder engine in the world, as well as the second most power dense unit in existence (the number one spot goes to the McLaren P1′s V8 unit). Power is transferred through a familiar 7-speed DCT gearbox.
On the other hand, the BMW M135i features, by comparison, an underpowered 3.0-liter straight-six cylinder engine delivering 316hp. Nevertheless, it's an extremely potent machine and thanks to its rear-wheel drive, it should be more enjoyable to drive than the Mercedes0Benz A45 AMG.
But will that be the case? Watch the video to find out!