The Alpha Omega Nissan GT-R from AMS Performance has set yet another record, the fastest GT-R title. It managed to run a quarter mile last night setting the new world record for a street legal GT-R at 7.98 seconds, a few days after it had set the same record at 8.259s at 185.18mph. They had already also broken the record a run earlier by setting a time of 8.303s at 182.77 mph which was 3 tenths of a second and almost 8mph faster than earlier records.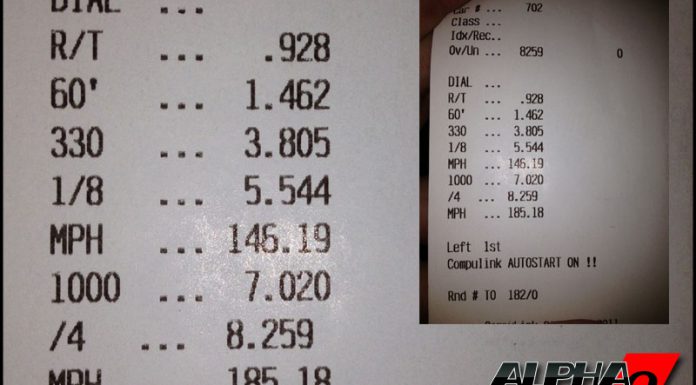 Just last month in June, the Alpha Omega GT-R set a series of new world records at an event called the WannaGoFast 1/2 mile in Chicago. The records were as follows; it set the fastest top speed for half a mile achieving a top speed of 214.04mph. It achieved 60-130mph in just 3 seconds, 0-100mph in 4.4 seconds and 0-200mph in 11.87 seconds.
Some of the records above were broken after the run last night; the Omega GT-R ran 60-130mph in 2.67 seconds disparaging that of June at 3 seconds. 100-150mph was achieved in 2.45 seconds last night beating the 2.58 seconds that was set by an Underground Racing Gallardo.
Apparently, the Alpha team were up for another run when suddenly the track went dark.. This was caused by a Mustang that had its throttle stuck. It hit the sand trap at the end of the track, then proceeded to hitting an electrical pole which damaged the transformer. The driver is luckily okay.