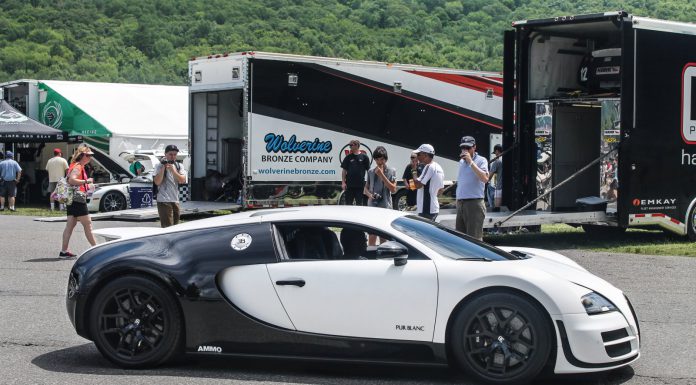 On July 6, 2013, the Northeast Grand Prix was held at Lime Rock Park in the village of Lime Rock, Connecticut. Every year during the Grand Prix, there are always exotic cars surrounding the track. Multiple super car manufacturers such as Lamborghini and Bugatti bring some examples of their cars to show off during the Grand Prix. Bugatti brought a Pur Blanc edition Veyron while Lamborghini brought the new Aventador Roadster. But it's not just the manufacturers who bring their cars out. Many exotic car owners come out to see the Grand Prix and park their cars in the spectator lots. Some manufacturers, such as Ferrari, have spectator lots dedicated specifically for cars of their make.
Lamboshane Photography took some really great shots of some of the super cars who showed up with the manufacturers and the owners that day.
Back in 1957, Lime Rock park was founded to serve as a natural terrain road racing venue for enthusiasts. The track housed racing on Sundays for the first two years until in 1959 when a church and the Lime Rock Protective Association took the track to the Lichtfield Superior Court to ban Sunday racing. The court upheld the idea to ban Sunday racing and to this day there are no motorsport events on Sunday. The track itself was reconstructed in 2008 to add three new configurations to the track along with the classic layout. The classic layout has seven turns while the other three configurations have eight, nine, or ten turns. No matter which configuration is used, the track is still 1.5 miles in length.
Lamboshane Photography also took many great action shots of the cars from the American LeMans Series race, the Lamborghini Blancpain Super Trofeo Series race, and the Perelli World Challenge race during the Northeast Grand Prix.
The Northeast Grand Prix, previously known as the New England Grand Prix until 2006, is held on Independence Day weekend every year as part as the American LeMans Series. The races themselves have a duration of 2 hours and 45 minutes.