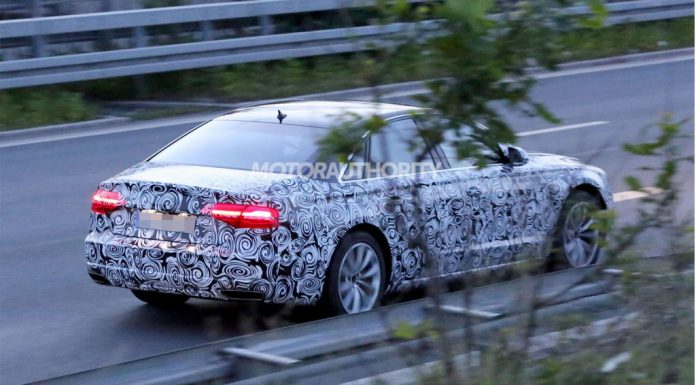 The facelifted 2015 Audi A8 has been spotted testing yet again with these latest spyshots being captured at night therefore giving us our best view of the redesigned taillights of the 2015 Audi A8 thus far.
As the following images highlight, Audi is still remaining very tight-lipped about the updated styling of the 2014 Audi A8 and opted to outfit the car in heavy camouflage covering the entire car except for the roof suggesting that that part of the car should stay the same as the current model.
While the camouflage doesn't reveal any of the styling changes which will inevitably debut on the 2014 Audi A8, the car will feature new headlights, new taillights, revised front and rear bumpers as well as a slightly modified front grille. However, Audi will spend most of its time improving the technology found in the 2015 Audi A8 with it aiming to compete with the dramatically redesigned 2014 Mercedes-Benz S-Class.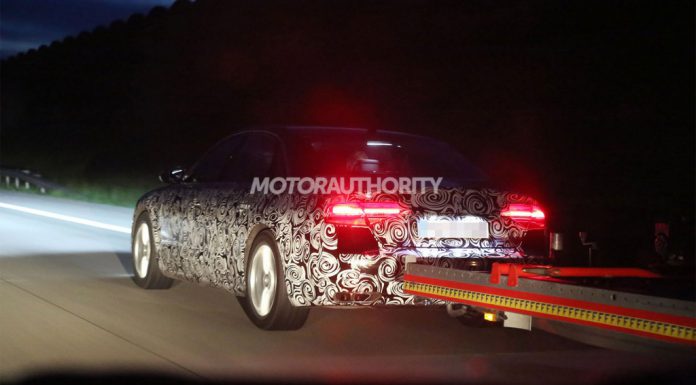 Some of the key features expected in the 2015 Audi A8 include the company's latest Matrix LED headlight technology as well as an improved version of the Audi connect internet services. Under the hood, the 2015 Audi A8 will be offered with a 3.0-liter and 4.0-liter TFSI engine as well as a 3.0-liter TDI diesel powerplant. The range-topping engine will come in the form of a 6.3-liter W12 unit.
Additionally, a selection of updates will be present inside the car.
The revised 2014 Audi A8 is expected to debut at the Frankfurt Auto Show 2013 in September.
[Via Motor Authority]