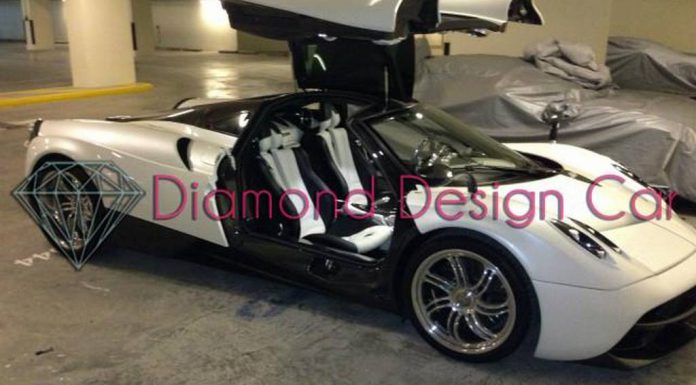 A unique white 2013 Pagani Huayra has just been listed for sale on Auto Scout 24 with a price of 1.6 million euors having just covered 250km since leaving the factory.
Based on the following images which show the Pagani Huayra fitted without the additional carbon fiber front splitter of the upgraded Huayra, it's possible that since being first constructed it was fitted with the additional splitter to increase downforce and increase the overall aggressiveness of the Italian hypercar.
At the heart of the Huayra is the M158 twelve-cylinder biturbo engine sourced through AMG. This is a new unit developed together with the German engineers at Affolterbach to meet Pagani's specific needs in terms of technical specification and quality. A lot has been said about the new engine choice. Many Pagani fans wanted to see a naturally aspirated V12 in the Huayra. They wanted to retain the passion and sound of the Zonda's outgoing M120 unit. The inclusion of the biturbo system has changed the cars character dramatically. However, it's a change that has been forced through the discontinuation of the aging M120 unit.
From 6.0 liters AMG managed to extract an astonishing 720hp and 1,000Nm of maximum torque. The power is converted to the rear wheels through a transverse sequential seven-speed gearbox with a dual plate clutch in favor over a dual-clutch system which is uniquely positioned low in the center of the car to reduce centre of gravity. Alone, this saves 70kg of weight.
UPDATE: Pagani have confirmed to us that this Huayra is not for sale and that the advert is in fact fraudulent. If you do wish to buy a Pagani Huayra we always recommend you get in touch with the factory directly!