Couture Customs is a tuner based in Scottsdale, Arizona. They work with top tuners such as Mansory, Wald International, Caractere, Fairy Design, Hamann, Vorsteiner, Misha Design, Novitec, Prior Design, and Overfinch. This is one of their recent projects which is based upon a Porsche 997 Turbo Cabriolet.
With not much details from the project, one can tell it has a new aerodynamic kit finished in white and complimented by white wheels that come in a white lip. The mirror covers are finished in white too while the rest of the parts get black accents such as the rear diffuser, the carbon fiber front lip spoiler, side skirts and the rear wing in black too.
The Porsche 911 Turbo Cabriolet of the 997 Series has had two generations, with the first one appearing in 2007 after its coupe model. A 3.6 liter dry sump flat six engine was used as opposed to the wet sump used in the preceding Targa and Carrera models. This produced 493 hp, when the second generation arrived in 2009 as a facelift, it had a larger 3.8 liter flat six albeit with the same output of 493 hp.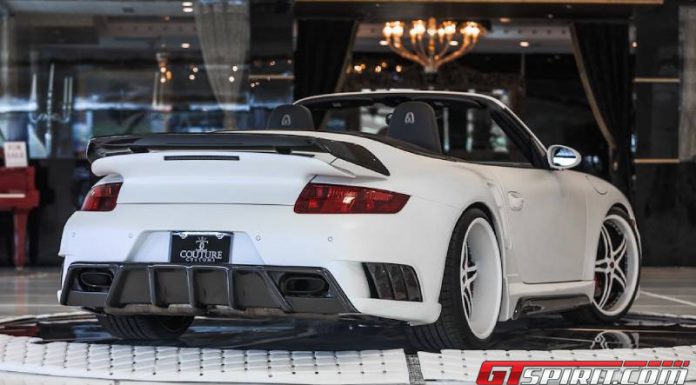 This is still one of the fastest convertible sports car able to set an autobahn maximum of 194 mph or an equivalent of 312 km/h.