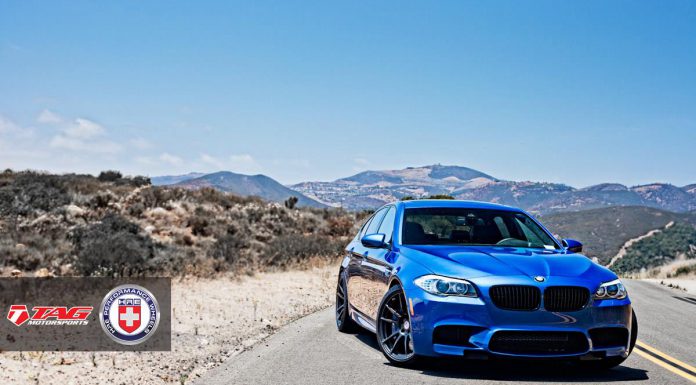 The BMW M5 regardless of the generation has always won the hearts of many car enthusiasts atop the other BMW M cars. Largely because of the combination of luxury and sporty features, this particular one is not different from the rest but the new enhanced looked owes to the HRE Performance Wheels fitted into it by TAG Motorsports from California.
These are 20 inch P44SC HRE wheels finished in a contrasting nature but giving a super match look to the Blue color on its body. The standard blue calipers ensure that the contrast does not drift the theme away. Good photography in the country roads then finish off the good work allowing us to see its menacing look.
Like every other M5 fan would say, this generation of the M5 feels deprived of resources but BMW will always have all the right reasons for reducing the number of cylinders from 10 to 8, and turbocharging it- even if the result is a less powerful car than the predecessor. They also say that turbocharging ensures more low-rev torque. It's predecessor was the fastest production sedan, this one is not!