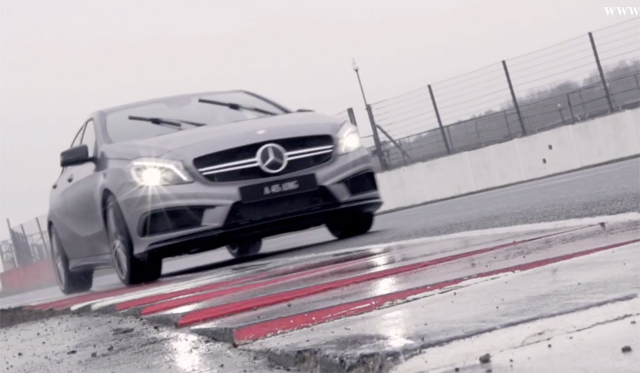 Lewis Hamilton recently had the opportunity to take out the brand new Mercedes-Benz A45 AMG on the track and the following video has been released highlighting the 2008 Formula One World Champion's response to the car.
While the following clip is obviously scripted, Lewis Hamilton seems quite impressed with the Mercedes-Benz A45 AMG and from our recent test drive of the car, it's little wonder why.
Fitted under the bonnet is a brand new 2.0-litre four-cylinder turbocharged engine rated at 360hp and 450Nm of torque. Despite the appreciable reductions, the AMG still sets the bar higher than its rivals. The four-cylinder is the most powerful 'series production' four-cylinder engine in the world, as well as the second most power dense unit in existence (the number one spot goes to the McLaren P1′s V8 unit). Power is transferred through a familiar 7-speed DCT gearbox.
Perhaps the most surprising statistic relates to the car's performance. 0-100km/h is possible in just 4.6 seconds, just 0.2 seconds slower than the current C63 AMG Sedan. Of course, it is the added traction from the four-wheel drive which makes this possible, yet as far as bang for buck goes, the A45 AMG certainly has the advantage. In this market segment, the only real comparator for the A45 AMG is the Audi RS3.