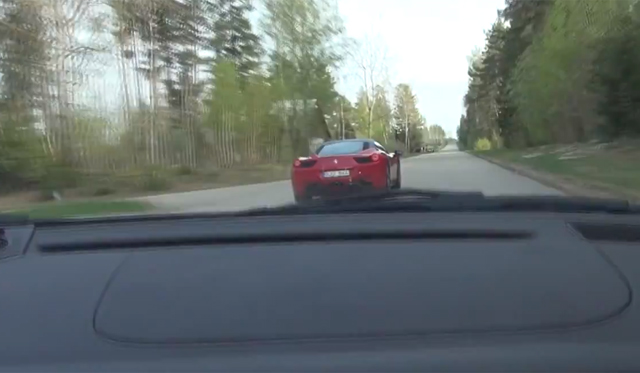 While the Porsche 911 Turbo doesn't feature some of the outlandish exterior or interior styling of some of its main rivals and while it also produces less horsepower than the Ferrari 458 Italia, Audi R8 V10 Plus and all modern Lamborghini Gallardo variants, it's quick enough to beat almost any other supercar on the planet in a straight line.
In the latest drag racing video from m5boarddotcom, a Porsche 911 Turbo fitted with the once-optional PDK transmission was pitted against a bright red Ferrari 458 Italia. In the following video, the Porsche 911 Turbo is running with the overboost function enabled in one race and with the system which increases torque by 50Nm turned off in the other.
The most recent Porsche 911 Turbo is the 2014-specification car. The 2014 Porsche 911 Turbo features a twin-turbo 3.8-liter, direct-injection, 6-cylinder box engine producing an impressive 520hp in the standard Turbo model and 560hp in the Turbo S model. Porsche developed a new version of their PTM-Porsche Traction Management fitted to the four wheel drive system for the latest car. The 2014 Porsche 911 Turbo model now sprints to 100km/h in just 3.2 seconds faster than the previous Turbo S by 0.1 seconds.
Yet another amazing feature, appearing for the first time in the new Porsche 911 Turbo models is the rear wheel steering. This is all about improving performance on the track and road thanks to the two electro-mechanical actuators in place of conventional bearing arms on the left and right side of the rear axle. What this means is that at speeds of up to 80km/h, the rear wheels steer in the opposite direction to the front, improving the turning circle and making the car feel as though it has a 250mm shorter wheelbase. Above 80km/h, the rear wheels steer in the same direction as the front improving stability.