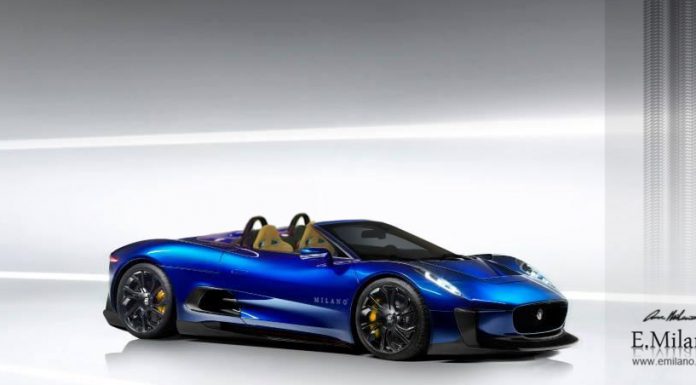 Just after Jaguar released new images of its stunning Jaguar C-X75 prototype in a brightshade of blue, automotive design firm Evren Milano put together the follow renderings of a Jaguar C-X75 Spyder.
While Jaguar confirmed late last year it had cancelled all plans of putting the Jaguar C-X75 into production, if the hybrid supercar ever made it to dealerships, a convertible variant could have soon followed. The following Jaguar C-X75 Spyder rendered by Evren Milano incorporates two roll bars to protect the driver and passenger in the case of a crash.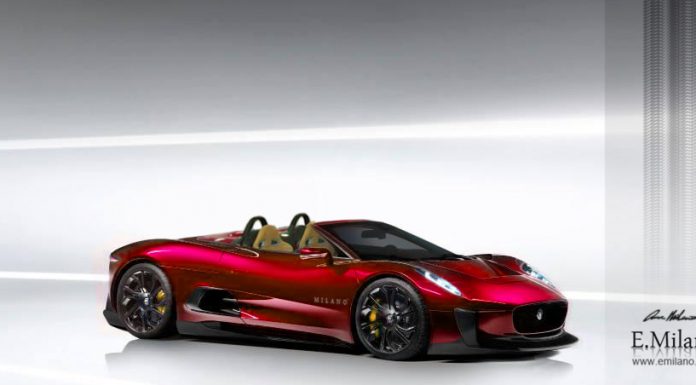 Prior to Jaguar cancelling production, the Jaguar C-X75 was pinned to be a fierce rival for the Porsche 918 Spyder, Ferrari LaFerrari and McLaren P1. The original Jaguar C-X75 Concept revealed at the 2010 Paris Motor Show featured a twin gas-turbine engine and even though this powertrain was originally scrapped for production, the 1.6 liter, twin-charged engine set to replace it could have produced up to 500hp revving to 10,000rpm then joined by a duo of electric motors delivering an additional 390hp.
Thanks to the lightweight, bonded carbon fiber chassis co-developed with Williams Formula One, Jaguar hoped the C-X75 could reach 100km/h in less than three seconds hit a top speed of over 200mph and therefore become a true competitor to the Porsche 918 Spyder, Ferrari F70 and McLaren P1.