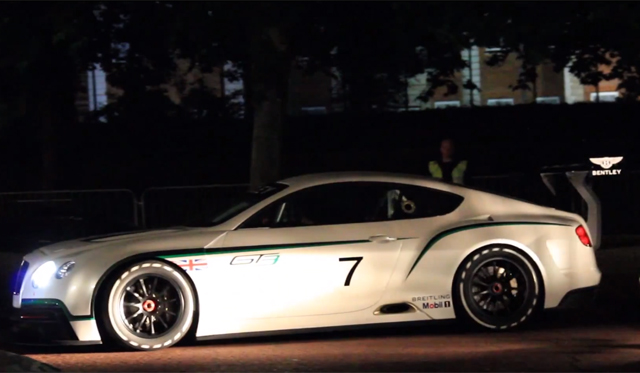 While Top Gear was recently out filming near Buckingham Palace for an epic feature in Top Gear Season 20, a rare Bentley Continental GT was spotted driving into position while revving.
The model signals Bentley's return to the racetrack for the first time since its historic sixth Le Mans victory in 2003. The new Bentley competitor will be eligible to race in a range of race series and events, up to and including 24-hour marathons.
The Continental GT3 concept uses a rear-wheel drive chassis and a comprehensive aerodynamic package. The livery of the car features an inclusion of Union flags. With the Continental GT3 concept receiving the full support of the FIA, Bentley is returning to the motorsport arena towards the end of this year with a GT race car capable of competing with the very best, in the true Bentley tradition.
The GT3 also receives a substantial diet, shedding weight all the way down to 1,250kg. Stripped of all its luxury, Bentley gutted the interior, added a roll cage, a set of racing seats and an awesome new bodykit!
Despite being first revealed at the Paris Motor Show 2012 last year, the Bentley Continental GT3 has yet to see any racing competition with development of the racer still progressing slowly.