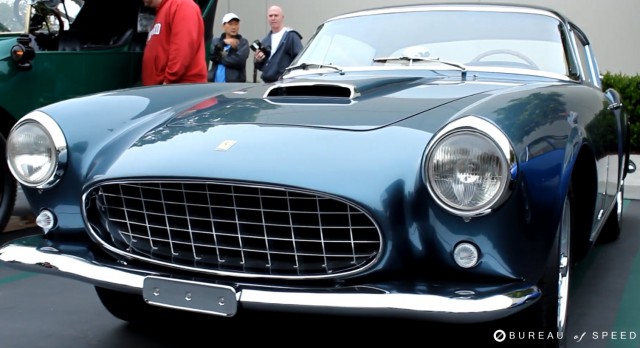 The Ferrari 250 GT is a car that, over the past decade, has gained value at a higher rate than just about any other car on the market. The sought after California variant of the 250 just recently sold for over $8 million at a recent RM auction, in fact.
So seeing such a beautiful example of a 250 GT Coupe Speciale being driven is a pleasure indeed. The 250 GT Speciale appears to have been in attendance of the local Cars and Coffee car show in Irvine, California — host to hundreds of exotic and iconic cars every Saturday morning — and captured by BureauofSpeed. As with the majority of Ferrari's, the body and styling were done by famous Italian design house Pininfarina, whose logo you can see emblazoned just rear of the front tires.
From what we can tell, this car (or one strikingly similar) recently sold at an RM Auction in Amelia Island back in April of 2012 for the sum of $1,430,000 USD. The 250 GT Speciale spotted in this video is powered by a 240 bhp, 2,953 cc V-12 engine mated to a 4-speed gearbox. The car is only one of four examples ever produced.
Check out the video above and tell us what you think about the 250 GT Speciale. Cool? Or not?