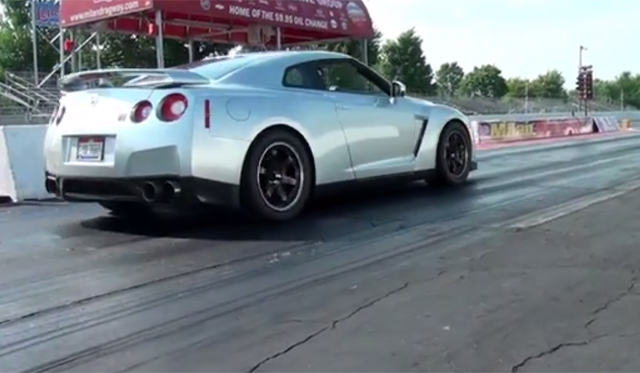 A modified Nissan GT-R tuned by Switzer Performance has set a new world record quarter mile time for the Nissan GT-R completing the sprint in just 8.61 seconds at over 170mph!
This new Nissan GT-R achieved such an incredible time thanks to the fitment of AMS Performance's Alpha 12 turbocharger kit, a Syvecs ECU which works perfectly with the standard advanced electronics of the regular Nissan GT-R and drag radicals. All told, this Nissan GT-R pumps out 1,300hp!
Tym Switzer, the head of Syvecs North America and Switzer Performance said, "We didn't intend to set records. We headed out to the track with John's car and another customer's Ultimate Street Edition GTR to test some of the new strategies we've been developing on our Syvecs GTR ECU package for the Nissan R35 GTR. We didn't think we'd be gunning for records and certainly didn't think we'd be making any headlines – we didn't even bring a camera! Everything just started clicking and we came home with a new GTR record on Shep's car, and a new fast time validation run for one of our USE cars, which ran a 9.67 at 149 mph, amazingly, on 93 octane pump fuel."
Making this pull all the more impressive is the fact that it's over 1 seconds faster across the quarter mile than that insane 1700hp Nissan GT-R Alpha 12+ by AMS Performance we recently showed you hitting 382km/h in just one mile!