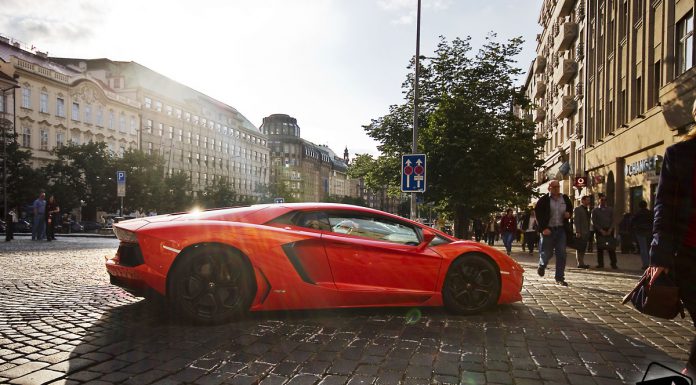 Another day and another Photo Of The Day. Our latest image comes courtesy of automotive photography extraordinaire Jordy de Droog and features a red Lamborghini Aventador recently spotted in Prague, Czech Republic.
Pictured in front of some of Prague's historic buildings and cobblestone streets, the following image is the perfect combination of modern technology meeting old design.
As a quick reminder, the Lamborghini Aventador featured a brand new 6.5-liter V12 engine producing an impressive 692hp and 690Nm of torque at 5,500rpm. As a result of this, the Lamborghini Aventador can sprint to 62mph in just 2.8 seconds and onto a top speed of 217mph.
It then comes fitted with a new ISR automated manual transmission. This gearbox combines minimal shift times – almost 50 percent shorter than with a dual-clutch transmission – and everyday usability with low weight and dimensions. Lamborghini ISR (Independent Shifting Rod) is a brand new technique for the Italian supercar builder. Instead of taking place in series, as with a conventional gearbox, shifting can occur virtually in parallel. While one shifting rod is moving out of one gear, the second shifting rod can already engage the next. Moreover, the transmission weighs only 79 kilograms – a distinct benefit, even against comparable DSG transmissions, which are considerably heavier.
Check out Jordy's Facebook page and website for more!