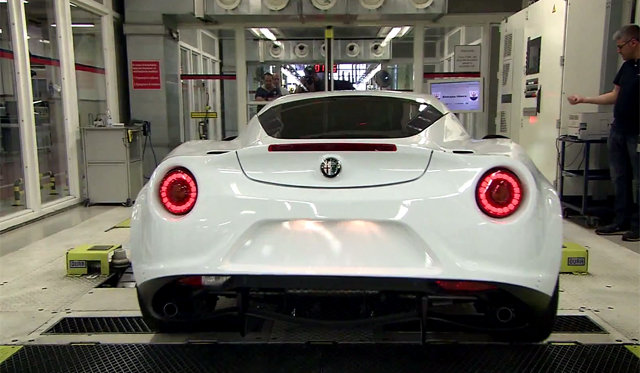 Not long after Alfa Romeo recently revealed that the Alfa Romeo 4C will tip the scales at just 895kg, Alfa Romeo has released a new clip showcasing the production of the new Italian supercar which takes place at Maserati's Modena production facility.
The following video begins with the formation of the exclusive carbon fiber monocoque, with all the key aspects of the build being showcased primarily to highlight how the car is largely hand built. What's more, being allowed to actually help build the Alfa Romeo 4C is an extremely lucky opportunity because each worker has an average of five years of experience in producing a selection of Maserati models.
The aforementioned weight figure of just 895kg has been achieved through the use of advanced materials, with one of the most notably weight-saving features being the carbon fiber monocoque which weighs just 65kg. Furthermore, the Alfa Romeo 4C features hybrid brakes which weigh an impressive 2kg less each than standard discs, as well as thinner windows and lightweight plastic bumpers and wings.
These weight saving measures are complemented further by the fact that the Alfa Romeo 4C's body isn't made from sheet steel, and is rather constructed for a material dubbed Sheet Moulding Compound which is 20% lighter while also being corrosion resistant.