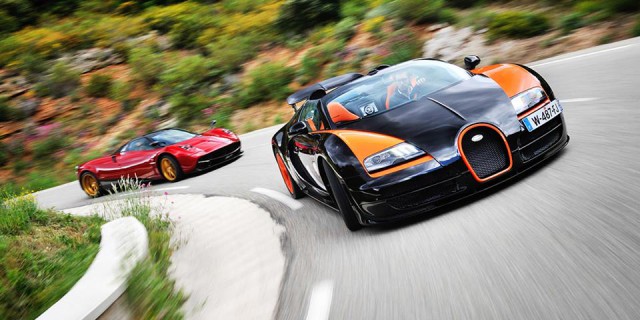 Just a few days ago we brought you an awesome video of Evo Magazine's Harry Metcalfe driving the Bugatti Veyron Grand Sport Vitesse for 1,000 miles on the Mille Miglia 2013. Today we have another awesome clip from Evo featuring another Bugatti Veyron Grand Sport Vitesse and the epic Pagani Huayra driving together!
Having the chance to drive these two cars together is a rare enough opportunity in itself, but Evo was actually handed the keys to the first Bugatti Veyron Grand Sport Vitesse WRC which actually set the world record 254mph top speed for a convertible. What's more, the red Pagani Huayra featured in the following video is the very first right-hand drive Huayra to have been delivered to the U.K!
While the following video is only short, it shows some beautiful driving from the cockpit of the Bugatti Veyron Grand Sport Vitesse World Record Edition piloted by Harry Metcalfe as it chases the Pagani Huayra through some awesome French mountain roads. Additionally, the following clip includes two exciting scenes where the Pagani Huayra and Bugatti Veyron Grand Sport Vitesse stretch their legs side-by-side on an abandoned road.
If that wasn't enough, the duo even passed to other Bugatti Veyron Grand Sport's during filming. If you've ever had to watch an Evo video, this is definitely it!