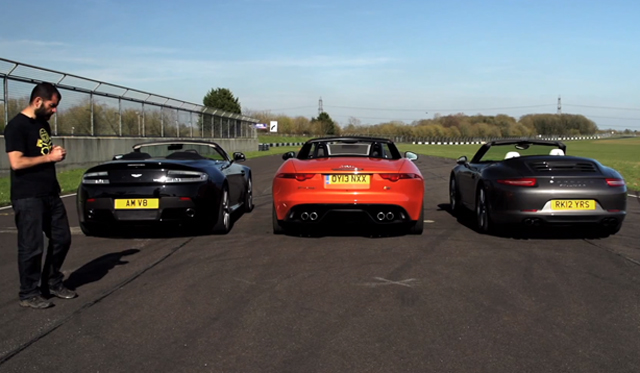 Chris Harris has hit it out of the park yet again with his latest Chris Harris on Cars video for the Drive YouTube channel. This latest clip sees Harris pit the brand new Jaguar F-Type V8 S against a rather outdated Aston Martin V8 Vantage Roadster and the new Porsche 991 911 Carrera S Cabriolet.
Of the trio, the Jaguar F-Type V8 S has without a doubt received the most hype in recent months and it's little wonder why. The V8 S is the daddy of the F-Type range. It gets the same familiar 5.0 litre Jaguar unit as we have seen in cars like the Jaguar XKR, XFR and XJ Super Sport. It is slightly detuned for the F-Type, producing 495hp rather than the 510hp we have become accustomed to. Yet the F-Type is a lighter, smaller package and can in fact feel every bit as fast on the road. The F-Type V8 S reaches a limited top speed of 186mph with 100km/h in 4.3 seconds and 60mph in just 4.2 seconds.
The V8 features a supercharger mounted in the centre of the cylinder banks. Superchargers are a rare commodity nowadays. It works perfectly in the F-Type V8 as well as giving an edge over the competition. Throttle response is instant and power is available across the rev range. In GTspirit's recent test of the Jaguar F-Type V8 S we found that the throttle does need a progressive and steady foot to get the most out of the power.
With all that being said, will Chris Harris find the Jaguar F-Type V8 S as good as the less powerful Aston Martin V8 Vantage Roadster and the Porsche 911 Carrera S Cabriolet?